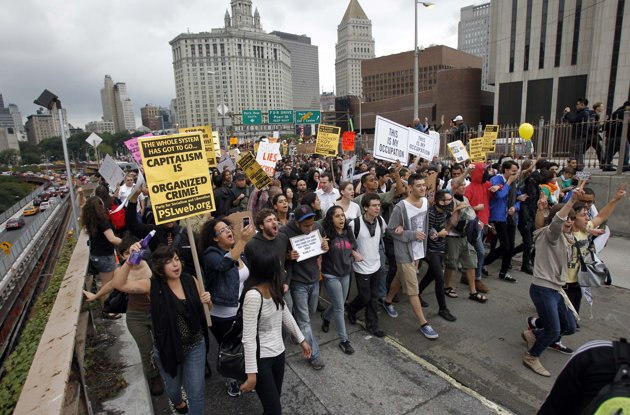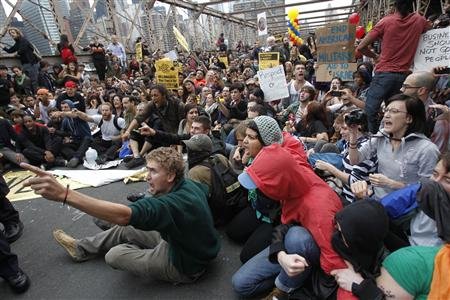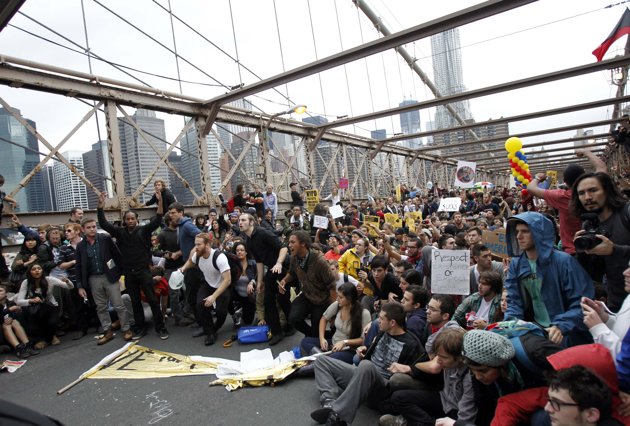 In a premeditated plan to suppress a peaceful protest of more than 5,000 people, the New York City Police trapped and arrested more than 700 people yesterday in lower Manhattan as they marched from the Occupy Wall Street encampment to Brooklyn.
New York City police during the past 10 days have been beating peaceful demonstrators, running them over with police motorcycles and engaging in unprovoked pepper spray assaults in a frantic effort to drive demonstrators from lower Manhattan.
At least 15 young organizers of the ANSWER Coalition were among the more than 700 people who were illegally arrested in this premeditated police operation on the Brooklyn Bridge. This is an effort to intimidate and repress the growing Occupy Wall Street movement.
They want to smash this protest movement but they will not succeed. In fact, police repression will galvanize even larger protests.
A new global mass protest movement has gripped the Middle East and Europe, and is taking shape now in the United States. Wherever the people are rising up against unemployment and austerity, government repression and corporate domination, they have been met with police repression. But these movements will not be stopped.
The assault on peaceful demonstrators yesterday in lower Manhattan is part of desperate police operation designed to stop and shut down the Occupy Wall Street movement which has gained new support in recent days from a growing number of labor unions whose members are facing mass layoffs, wage and benefit cutbacks and union busting efforts by the government.
Take to the streets on the
10th anniversary of the Afghanistan war!
Anti-war actions taking place across the country!
Washington, D.C.
Stop the Machine!
Thursday, Oct. 6, 9am
Freedom Plaza
See event details

Los Angeles
Protest and Die-In
Fri., Oct. 7, 4:30pm
Westwood Federal Building
11000 Wilshire Blvd.
(Corner of Wilshire & Veteran)

Chicago
March and Rally
Sat., Oct. 8, 12 noon
Plaza at corner of
Michigan and Congress

San Francisco
Protest and Die-In
Fri., Oct. 7, 4:30pm
Federal Building
7th and Mission Sts.

New York City
Outreach and Flyering
Fri., Oct. 7, all day
Sign up online
Seattle
Protest and Die-In
Fri., Oct. 7, 4:30pm
Seattle Central Community College
Broadway and Pine
March to Westlake
for 5:30pm die-in and program

Albuquerque
Protest and Die-In
Sat., Oct. 8, 11am
UNM Bookstore

Syracuse
"Unoccupy Afghanistan" outreach
Fri., Oct. 7, 5pm
at Occupy Syracuse
(Perseverance Park on Salina St)
Do you like this post?