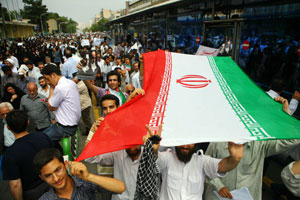 The U.S. and Israel purport that Iran's nuclear program is a threat to other countries in the region, but is this really true? Iranian nuclear physicists have been kidnapped and assassinated, recent Wiki-Ieaks cables revealed that last year the U.S. agreed to "quietly transfer" bunker-busting bombs to Israel, and on December 21, the United States Congress unilaterally imposed more stringent sanctions on Iran and its representatives. Who is threatening whom?

Come hear a panel of speakers who will discuss what these events reveal about U.S. and Israeli foreign policy and present up-dates on Iran's stance in negotiations.
Date:
January 14, 2011
Time:
7pm
Location:
Grace & St. Paul's Church
123 West 71st Street (between Amsterdam & Broadway)
1/2/3 or B/C train to 72nd St.
New York , New York
Contact:
ANSWER Coalition at

[email protected]

or 212-694-8720
Speakers:
Brian Becker is the National Coordinator of A.N.S. W.E.R Coalition, an anti-racist, anti-war organization working to prevent intervention and war, and defend civil and human rights of working people at home and abroad. Mr. Becker is an experienced organizer in the political arena of the U.S., which has given an impetus to broadening the anti-war movement.
Ray McGovern is a former Intelligence Analyst who worked for over 27years in seven U.S. administrations. Ray, a native N'Y'er, graduated summa cum laudefrom Fordham University. In 2003, together with other former CIA employees, McGovern founded the Veteran Intelligence Professionals (or Sanity or VIPS. In January 2006, in Atlanta, McGovern publicly challenged Donald Rumsfeld in what became a mini-debate on live TV (lots of coverage on YouTube). Mr. McGovern was recently arrested along with 134 other peace advocates and U.S. Veterans calling for an end to the wars in Iraq and Afghanistan.
Nima Shirazi is a political commentator and writes the website WideAsleepInAmerica.com. His analysis of United States foreign policy and Middle East issues can also be found in numerous other online and print publications.
Sponsored by: American Iranian Friendship Committee (AIFC) www.iranaifc.com

Endorsed by: WESPAC Mid-East Committee, David Swanson, WarIsACrime.org, PakUSA Freedom Forum, Phil Wilayto, Author, "In Defense of Iran ... ", Elliot Abrams - Veterans for Peace*, (List in formation)
In addition to the ANSWER contact information, also contact: [email protected] or call: 914-273-8852
*For Identification Only
Do you like this post?