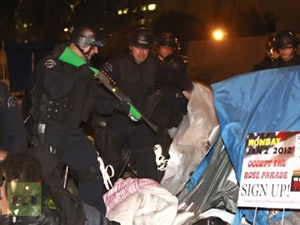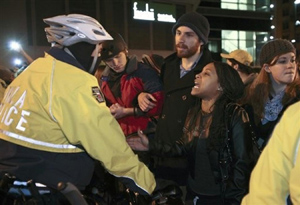 Dear ,
The nationally coordinated police assault against the Occupy Movement took a dramatic turn in the early hours of this morning with the nearly simultaneous police assaults against Occupy Philadelphia and Occupy LA.
Hundreds were arrested at Occupy LA in the early hours of the morning. More than 1,000 riot-clad police carried out the assault on the encampment.
Mike Prysner, ANSWER Coalition organizer who is an Iraq war veteran and coordinator of March Forward!, told us moments before his arrest: "Police are just ripping up the tents now but we are standing strong. The only times I've felt proud wearing my army uniform is when I've worn it fighting the 1%. This movement against the system isn't ending!"
Prysner, ANSWER activist Douglass Kaufman and others are still in jail and their bail has been set at $5,000 each.
ANSWER LA had put out an emergency mobilization alert yesterday to bring people to the Occupy LA in advance of the anticipated assault. On Sunday night, more than 3,000 people answered the call to come to defend Occupy LA, and the police backed off at the time from their threatened eviction.
In Philadelphia, police arrested approximately 50 people following the eviction of Occupy Philly. At least one person was hospitalized with injuries after police on horseback charged into peaceful demonstrators. Others were assaulted by the police, who slammed people to the ground and carried out other acts of brutality.
The police attack against the Occupy Movement is a coordinated assault by law enforcement agencies against a new, growing movement for social and economic justice.
We are convinced that police repression will not end this new movement. People want change. Society requires change. Record profits for banks and corporations coincide with massive unemployment, growing poverty and endless war. That is the basic problem. And that's why the movement of the 99% is becoming an irresistible political force.
Organize, Occupy, Rise Up!
National Staff, ANSWER Coalition 
Do you like this post?