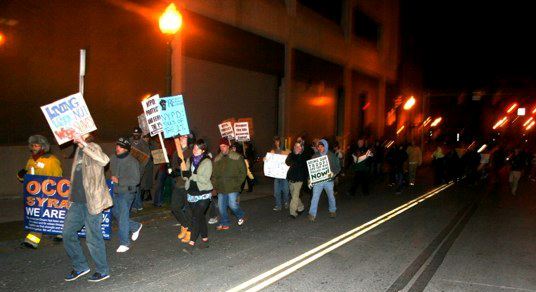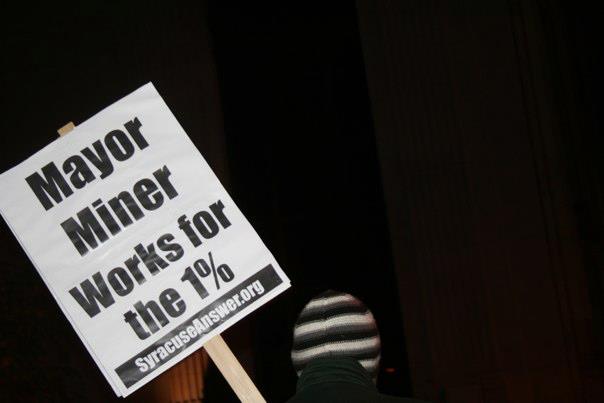 By Adrienne Garcia
Over 75 people participated in an inspiring march for workers' rights in solidarity with Occupy Wall Street in Syracuse during the Nov. 17 national day of action.  The event was organized by Occupy Syracuse and the Workers' Center of Central New York in order to bring attention to wage theft, a growing problem that many workers across the nation are facing. Last year, the Workers' Center worked hard to expose conditions of wage-theft and modern day slavery at the State Fair.
During the opening rally, the group heard from a young immigrant worker, Jose, who spoke about his experience with the New York State Fair's dehumanizing work conditions, including 16-hour work days without any breaks. This writer translated for the crowd as Jose spoke about being robbed of thousands of dollars of wages, and being forced to live in bug infested, dirty housing provided by vendor Peter Karageorgis. Jose worked 21 days without a day off and faced aggression from bosses when he and his coworkers confronted them about their stolen wages. 
Rebecca Fuentes, Coordinator of the Workers' Center of CNY, emphasized that what happened to Jose happens to people from all walks of life across the country. She urged that we all work together to end worker exploitation. "We make this world run," she said, referring to the labor of the 99 percent.
The group, including members of ANSWER Syracuse, marched through downtown after the rally. Early on, the group spontaneously took the streets, blocking traffic while chanting "when working families are under attack, stand up fight back!" Chants demanded higher wages, better work conditions and justice for all workers.
Syracuse has been hit hard by the capitalist economic crises. The city faces high unemployment, increased victimization of the working class, and police repression. Abandoned and foreclosed homes line the streets of the city where families are forced to sleep, while a growing number of police surveillance cameras watch overhead. This is all facilitated by cooperation between the 1 percent, city police, and the local government, including mayor Stephanie Miner and the Common Council.
The day of action ended with a forum about wage theft that took place at the Workers' Center in Plymouth Church. Speakers emphasized their ongoing struggle to draw attention to wage theft and other abuses faced by workers.
Do you like this post?