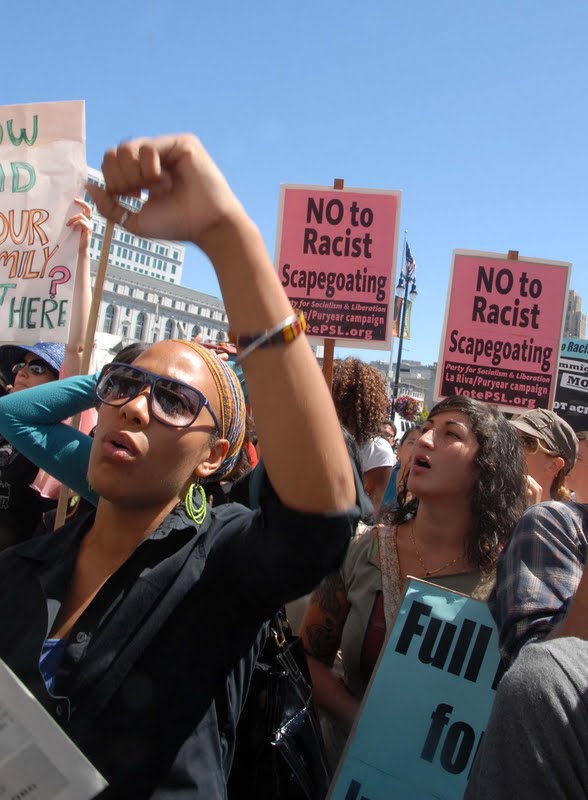 The ANSWER Coalition encourages its members and supporters to attend the following conference this weekend.
This Saturday, join students, workers, activists and organizers for an "Organize and Fight Back" Socialism Conference at Los Angeles City College. There will be speakers, workshops, discussion, strategizing and plans for upcoming actions to build the movement for socialism.
Conference schedule
10am: Doors open, registration begins
11:00am - 1:00pm: Opening Plenary
"The people rise up: Egypt, Wisconsin, Los Angeles"
This Plenary session will feature talks and discussion about the many crimes of capitalism, including attacks on workers and students in the United States and around the world. We'll also discuss concrete ways people are standing up, organizing and fighting back. Speakers include union leaders, teachers, high school and college student activists, immigrant rights leaders, U.S. military veterans and the event's featured speaker, Richard Becker, author of Palestine, Israel & the U.S. Empire. Don't miss this exciting session.
1:10 - 2:10pm: Worshop Session I
Myths and facts about socialism and revolution
Students and workers fight budget cuts
Socialism and the Latin American rebellion
2:10 - 2:40pm: Lunch and entertainment
2:45 - 3:45pm: Workshop Session II
Cultural revolution: Creating people's art and media
A Marxist perspective of the Arab revolts
Stop the cops: Bad apples or a rotten tree?
4:00 - 5:00pm: Closing Plenary
"Socialism, the only alternative to capitalism"
This Plenary session will feature talks about what socialism is and how we can get there. Speakers will address the need for multinational, working-class unity, building a revolutionary party in the United States, why people come together to organize the working-class struggle and why socialism will ultimately prevail. If you are curious about socialism and want to get involved in the movement for real change, you should be here for this session.
Conference topics include
Fight for workers' rights: Union jobs, education, housing, healthcare
From Egypt to Wisconsin to LA: The people rise up
Overturn capitalism: struggle for socialism
Stop the occupations of Afghanistan, Iraq, Palestine ...
End racism, Isamophobia, sexism and anti-LGBT bigotry
Build a revolutionary party in the United States
Put people and the planet over profits
Win full rights for all immigrants: stop racist ICE raids
Students and youth lead the way: organizing to fight back
End police brutality, violence and racist oppression
Support the Cuban Revolution
Art, culture and revolution
Socialism: What it is, why we want it, how we'll get there
Featured speakers include 
Richard Becker: Author, Palestine, Israel & the U.S. Empire; West Coast Coordinator, ANSWER Coalition
Peta Lindsay: Howard University graduate; PSL member
Juan Jose Gutierrez: Director, Vamos Unidos USA; Full Rights for Immigrants Coalition
Mike Prysner: Co-founder, March Forward!
Muna Coobtee: Palestinian American Women's Association
Angel Bartolome: Los Angeles chapter Coordinator of AF3IRM
Yvonne Bonilla: Students Fight Back-Pasadena City College; PSL member
Travis Wilkerson: Award-winning filmmaker
Stevie Merino: former Long Beach candidate for Mayor; PSL
David Feldman: UTLA member; middle school teacher
Sandy Naranjo: union organizer; Labor Unions for Peace, Justice and Jobs
Abel Macias: San Diego City College professor; PSL
Jessica Bardales: Students Fight Back-CSULB
Eman Khaleq: UCI student; PSL
Al Garcia: Alliance for Just and Lasting Peace in the Philippines
Jacqueline Villagomez: UTLA member; high school teacher
Marcial Guerra: PSL member
Doug Kauffman: Jeremy Marks Defense Committee; PSL
Sha Azedi: Riverside Area Peace and Justice Action
Iliana Carter-Ramirez: Co-founder, Corazon del Pueblo
Ian Thompson: ANSWER Coalition, Los Angeles
And many others.
Driving, Metro, Parking & Campus Map
DRIVING: Los Angeles City College is on Vermont Ave. in Los Angeles, just off the 101 freeway and close to downtown. Click here for a map and driving directions.
METRO & BUS: LACC also one block from the Metro Red Line, Vermont/Santa Monica stop. Click here for Metro information.
PARKING: There is plenty of street parking on streets adjacent to LACC, both east and west of Vermont Ave. Click here for more info on parking.
West of Vermont: The best streets to park on west of Vermont are Willow Brook Ave and all streets that intersect with Willow Brook. This includes Heliotrope Dr. and Edgemont St. The closest entry point to the Chemistry Building is on Willow Brook Ave.
East of Vermont: There is street parking on every street East of Vermont and south of Santa Monica Blvd. These streets are just a 2-5 minute walk to the LACC campus.
CAMPUS MAP: The Socialism Conference will take place in Holmes Hall, Room 6 (downstairs). Holmes Hall is located in the LACC Quad and is easily accessible if you enter from Vermont (the main entrance) or Heliotrope. It is fully accessible for disabled people. Click here for a campus map (or look below). Holmes Hall is circled in magenta on the map.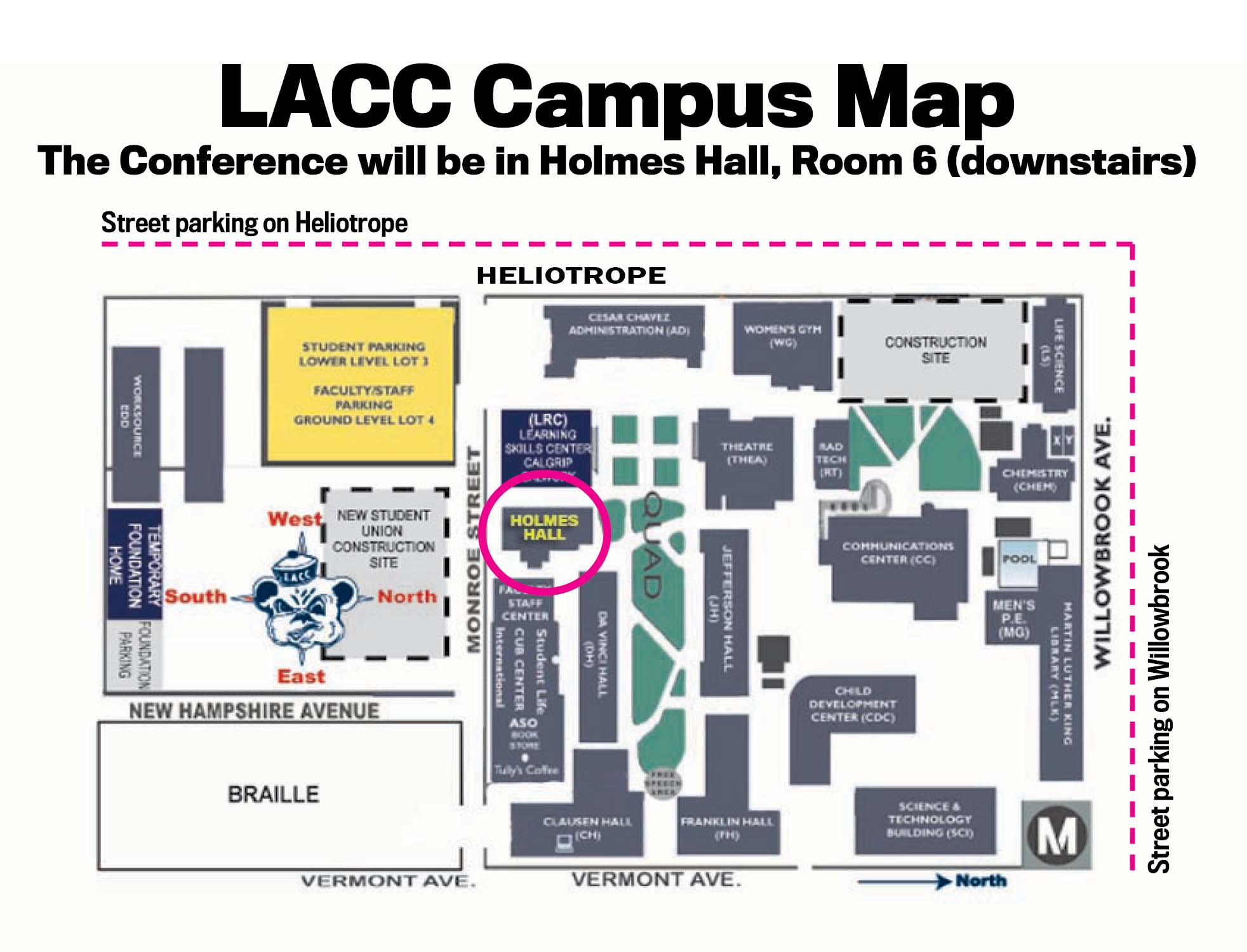 Register for the Socialism Conference and bring your friends.
Sponsored by Party for Socialism and Liberation. $7-10 donation requested. No one turned away for lack of funds. Childcare and lunch provided.  
For more info: 323-810-3380 or [email protected]. 
Do you like this post?