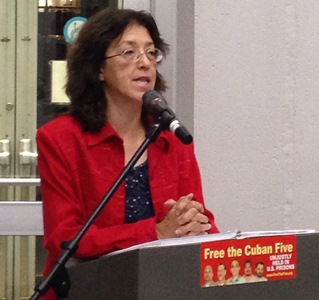 Community members and students gathered at Temple University in Philadelphia on Oct. 28 to hear speakers discuss the ongoing struggle to free the Cuban Five. Arrested in 1998, these Cubans were charged with conspiracy to commit espionage by the United States government for the "crime" of protecting the people of Cuba from U.S.-backed Miami-based terrorists. They have remained unjustly imprisoned ever since, and a fierce fight-back movement has developed demanding their release.
Speakers at the event, hosted by prominent activist and journalist Prof. Linn Washington, included leaders of the movement to free the Five as well as their legal counsel. Panelists focused on the role that hostile media outlets played in influencing the outcome of the case.
"If you believe the person is the devil, anything can be construed as espionage," said Richard Klugh of the Five's legal defense team. Portrayed as terrorists, these agents were in fact heroes whose intelligence gathering saved the lives of Cubans.
This blatant warping of justice was made possible by a bought-and-sold media in the direct pay of the U.S. government. Gloria La Riva, national coordinator of the National Committee to Free the Cuban Five, discussed the revelations made by a recent Freedom of Information Act (FOIA) filing that resulted in the release of documents showing that a number of Miami-based journalists had been paid large sums of money to advance the government's anti-Cuba positions. Read more on the website of the Partnership for Civil Justice Fund.
They aimed to turn public opinion against the Cuban Five and prevent them from getting a fair trial. "Regardless of politics," said La Riva, "that should be our concern; the right of justice."
Author and D.C.-based activist Eugene Puryear closed the panel with a presentation on the history of U.S.-Cuba relations, focusing on Cuba's long-standing policy of international solidarity. This model contrasts sharply with the United States, explaining the long-standing aggression carried out against the country.
The case of the Cuban Five highlight the hypocrisy of the U.S. government, which wages imperialist wars around the world under the guise of "fighting terrorism" yet continues to vilify Cuba's own attempts to protect itself against terrorism.
Do you like this post?