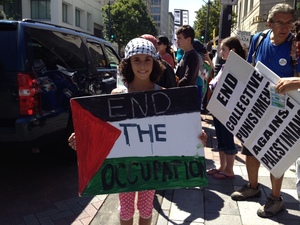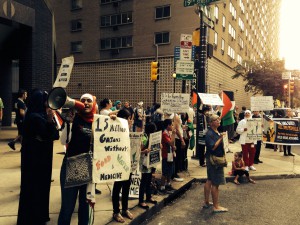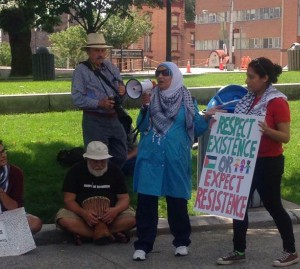 As Israel is forced to accept negotiations but desperately tries to maintain its siege of Gaza, protests are continuing throughout the United States. The reports below are compiled from Liberation News.
Seattle, Wash.
On August 9, as part of the Gaza Day of Rage, protesters again gathered in Seattle at 4th and Pine in downtown. The spirited demonstrators gathered at each corner of the intersection and chanted "1,2,3,4, we don't want your bloody war, 5,6,7,8, Israel is a racist state!" and "When people are occupied, resistance is justified."
Philadelphia, Penn.
On August 8 people once again massed outside of the Israeli Consulate on 19th and JFK chanting "Philly Stands With Palestine."
The protest came on the same day that members of the local Jewish Voice for Peace were arrested while conducting an act of civil disobedience in the Jewish Federation building, the largest Jewish organization in Philadelphia.
Albany, N.Y.
On Aug. 9, as Israeli resumed the ruthless bombing of Gaza after a tenuous 72-hour ceasefire ended, over 60 people from across New York and Massachusetts rallied at the State Capitol in Albany. The rally, organized by the Queer Palestinian Empowerment Network, ANSWER Syracuse (Act Now to Stop War and End Racism), and The Hampton Institute drew a multinational group of people from Boston and Western Massachusetts, Utica, Syracuse, and New York City.
Do you like this post?