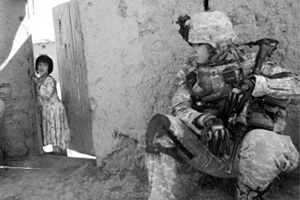 End colonial occupation—Iraq, Palestine, Afghanistan and everywhere

Fund Jobs, Schools, Healthcare and Housing—Not the Pentagon

Fight Islamophobia, anti-immigrant attacks and all forms of racism
As the U.S./NATO war in Afghanistan enters its tenth year, casualties on both sides are at an all-time high. Spending on the war in Afghanistan alone is over $2.5 billion per week—that's $2,500,000,000 every week—at a time when tens of millions of people have lost their jobs, housing, healthcare and pensions here, and most Afghani people live in extreme poverty.  Regardless of public relations proclamations from the White House, the Iraq occupation is far from over, and the U.S.-backed Israeli oppression of the Palestinian people is intensifying. 
The real military budget this year is over $1,000,000,000,000—or more than $32,000 per second. The biggest banks, military industries and other corporations are reaping vast profits from the suffering of working people in the war zones and here. At the same time as they sit atop mountains of cash, corporations like the Blackstone Group (owners of the Hilton Hotel) are attacking the health benefits of thousands of union hotel workers in San Francisco who are struggling to win a new contract. Politicians and the right-wing corporate media constantly seek to divide working people by fomenting Islamophobia, anti-Arab and anti-immigrant racism.
Join us on Oct. 6 to say NO to war, racism and all bigotry, and YES to meeting the needs of the people!
Volunteers Needed! 415-821-6545 • ANSWERsf.org • [email protected]
Initiated by A.N.S.W.E.R. Coalition—Act Now to Stop War & End Racism. Endorsed by: Clergy and Laity United for Economic Justice, Al-Awda Palestine Right to Return Coalition, Justice for Filipino American Veterans, Unitarian Universalists for Peace-S.F., National Committee to Free the Cuban Five, Bay Area United Against War, United National Antiwar Committee, Party for Socialism and Liberation, World Can't Wait, Free Palestine Alliance, Code Pink Women for Peace, Alliance for a Just & Lasting Peace in the Philippines, March Forward!, Socialist Viewpoint, FMLN-Farabundo Marti National Liberation Front (list in formation)
Do you like this post?