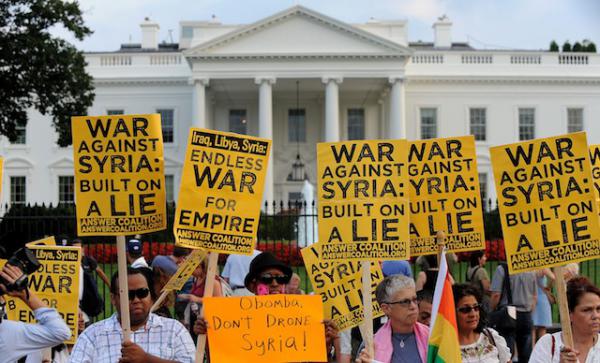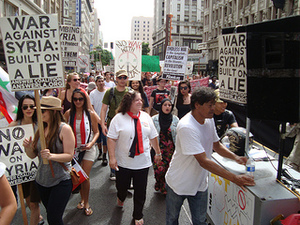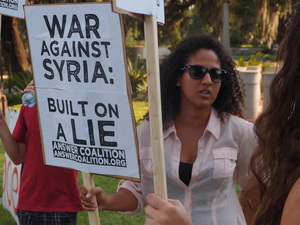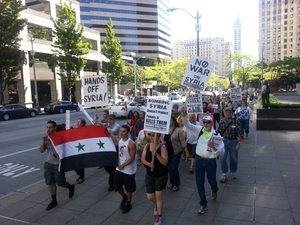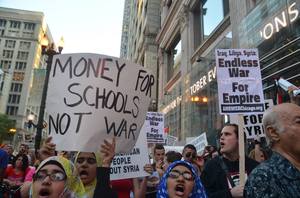 Washington, D.C.
Reporters present for Obama's speech on Syria Aug. 31 reported that the chants of anti-war demonstrators, who were on the sidewalk right in front of the White House, were being heard loud and clear in the Rose Garden. They could also be heard by viewers of the White House live feed. The Park Police and Secret Service brought in horses and used pens to try to break up the rally in the minutes before Obama entered the Rose Garden. Demonstrators, threatened with arrest, refused the unlawful orders to disperse.
Protesters also gathered in front of the White House earlier in the week, on Aug. 29. Forming a spirited picket that attracted support from passersby, the demonstration drew attention to the absurdity of having a so-called budget crisis when the government is prepared to spend billions to murder our sisters and brothers in Syria.
Now, in the face of growing domestic and global opposition, President Obama was forced to step back from an imminent attack on Syria and says that he would bring the issue before Congress, which is currently in recess but due back on Sept. 9. Anti-war activists in Washington, D.C., and across the country are preparing for a massive demonstration to be held Sept. 7, just before the legislators return to take up the war authorization vote.
Los Angeles
On Aug. 31, around 700 people protested in Downtown Los Angeles against President Obama's announcement of possible military strikes against Syria.
Protesters gathered at Pershing Square Park, a central pedestrian location in Los Angeles. Spearheaded by ANSWER LA, the action was sponsored by over a dozen community organizations including Arab Americans for Syria; National Lawyers Guild – LA; Veterans For Peace – LA; Full Rights for Immigrants Coalition; Alliance Philippines; KmB Pro-People Youth; March Forward!; Women Organized to Resist and Defend (WORD); leaders in the progressive Korean community and more. Many young military veterans in March Forward! took part in the protest, including an active-duty Marine who travelled from Camp Pendleton.
After several speakers addressed the rally against intervention, the protest took to the street and marched through major intersections throughout downtown LA. The march took over all lanes of traffic along main streets, echoing chants of "Hands Off Syria" through rows of tall apartment buildings and shopping centers. The march received honks and cheers of support along the way.
At the end of the march, some demonstrators sat down in a major intersection. After refusing dispersal orders by police, more than 40 people were issued citations and two people were arrested.
Tallahassee
In Tallahassee, opposition to the war on Syria is at fever pitch. While raising awareness on the Florida State University campus, ANSWER members spoke to hundreds of students who adamantly opposed U.S. intervention. We first rallied on Thursday, Aug. 29 in front of the Old Capitol building on Monroe Street and Appalachee Parkway. On Saturday, Aug. 31st, we held another demonstration on the corner of Railroad Avenue and Gaines Street. Both events earned a continuous outpouring of support from people driving and walking by. Students, ANSWER, Veterans for Peace and local residents will meet this Wednesday at All Saints Cafe at 8:00pm to discuss upcoming actions.
Seattle
On Aug. 31, hundreds of demonstrators took to the streets in Seattle to say no to any U.S. attack on Syria. Demonstrators, including the ANSWER coalition, gathered at busy downtown Westlake Park at noon and marched to the Federal Building, where others, including members of the Syrian community, had gathered. The now united demonstrations marched back to Westlake for an impromptu rally, and returned to the Federal Building to conclude. Along the way, many people on the street joined in the march and passing cars honked in support. Other organizations participating included Cascadians Against War and World Can't Wait.
New Paltz
An Aug. 31 protest against Obama Administration plans to bomb Syria took place in New Paltz, N.Y. Demonstrators from various groups including Mid-Hudson ANSWER took part on a busy street corner in front of the public library. Because of heavy traffic a constant flow of cars slowly passed our "Obama: Do Not Bomb Syria" signs.
Philadelphia
On Aug. 31, opponents of a war against Syria gathered at a busy intersection across the street from City Hall to express their outrage at a possible bombing campaign. Protesters held signs that drew the connection between previous aggression against Iraq and Libya to the current imperialist campaign.
Speakers highlighted the blatant hypocrisy of top political and military officials, pointing out the bloody record of the US government that uses humanitarian rhetoric to mask its true objectives - furthering their domination of the region to facilitate its exploitation by Wall Street banks and corporations. Activists distributed informational fliers and engaged passersby, who overwhelming did not favor another war.
Chicago
On Aug. 29 over 300 people gathered at Federal Plaza in Chicago to demand an end to the despicable and illegal drive for the bombing of Syria. A "Fight for 15" rally of fast food workers demanding a living wage had just finished their own inspiring demonstration and many stayed to lend their support. A variety of speakers addressed the crowd, debunking the Obama administration's lies and hypocritical rhetoric attempting to deceive the U.S. public into supporting the destruction of another sovereign country in their endless desire for wars for profit.
The breaking news that the British parliament had voted down a motion to agree to military action in Syria energized the crowd and led to a passionate round of chanting.
The demonstration ended with a spirited march through the busy downtown Chicago streets, stopping in front of the ABC 7 news studio where demonstrators loudly chanted together: "Hands off Syria! No more wars!"
Two days later, ANSWER Chicago organized a demonstration downtown on Michigan Ave. to stay in the streets and keep up the pressure. Despite unseasonably cold weather and heavy rain, over 150 people arrived and joined together in declaring "No justice, no peace! U.S. out of the Middle East!" Demonstrators were again energized by the breaking news that the administration would seek congressional approval before attacking Syria, feeling the power and results of their dissent and solidarity. Many protesters signed a petition demanding an end to the drive for war against Syria. The people of Chicago are determined to stay in the streets until their voices are heard! 
The Aug. 31 protest was sponsored by Syrian American Forum, ANSWER Chicago, Antiwar Committee Chicago and March 19th Antiwar Coalition.
The Aug. 29 protest was sponsored by the 8th Day Center for Justice; ANSWER Chicago; Anti-War Committee – Chicago; CAMI-Committee Against the Militarization of Youth/Comite anti-militarizacion; Chicago Area Peace Action; Food Not Bombs Pilsen; Gay Liberation Network; International Socialist Organization; Iraq Veterans Against the War – Chicago; La Voz de los de Abajo; March 19th Anti-War Coalition; North Share Coalition for Peace, Justice and the Environment; NW Indiana Veterans For Peace; Syrian American Forum; U.S Palestinian Community Network; and World Can't Wait Chicago.
Click here to see photos from the Aug. 29 demonstration
Click here to see photos from the Aug. 31 demonstration
Albuquerque
An energized crowd came out into the streets of Albuquerque to protest U.S. military threats against Syria. A coalition of local and national anti-war groups including ANSWER, Stop the War Machine and Veterans for Peace gathered in a populous part of the city to express their opposition to the imperialist maneuvering of the U.S. government. 
Joel Gallegos, an organizer with the ANSWER Coalition and the Party for Socialism and Liberation, stated that the U.S. threats against the Assad government are "another way of maintaining hegemony in the Middle East and challenging other independent nations in the region."  Another notable anti-war activist, Bob Anderson of Stop the War Machine, referred especially to Iran as an independent nation which the U.S. is attempting to challenge through Syria.  "It's not Syria, but it's to try to break up a coalition and the alliance of people who are supporting Iran in its opposition against Israel and the United States, [who seek] to dominate that region of the world," Anderson stated. 
The Albuquerque chapter of the ANSWER Coalition has issued a public announcement that it will call another demonstration on the day of or after the United States begins military strikes against Syria.
New Haven
Residents of New Haven, Conn. protested Aug. 31 against a new war on Syria. Interest in the protest grew significantly after President Obama's afternoon announcement that he had decided to go ahead with military operations and would seek Congressional approval. The New Haven action took place at a busy downtown intersection as cars and pedestrians passed and people waiting for the bus looked on and joined the protest.
Chanting, "Occupation is a crime, from Syria to Palestine," and "Obama, you lied to me, bombs don't bring democracy," the protestors echoed the voices of hundreds of other demonstrations around the world.
"Two days ago, fast food and retail workers across the country went out on strike to demand a living wage and basic respect on their jobsites. Employers and their mouthpieces claim there's no money for raising the minimum wage, but a Tomahawk missile costs about $1.5 million just to build. A new war could cost a billion dollars or more. It's not that there's no money for jobs, for housing, for education, for healthcare, but that we live in a system that values profit more than people's lives. And that includes the profits it makes from going to war." said ANSWER Coalition organizer Chris Garaffa.
Ina Staklo, an organizer with Women Organized to Resist and Defend (WORD), spoke of the grave human costs of war: "Women's rights in the U.S. are nothing more than bargaining chips for this administration. So what do the lives of women and children mean to this administration? What does this administration mean when it says the strikes are going to be "surgical," that no civilians are going to be hit. How trustworthy is that administration when it says that? We know that at the same time that there is a war on women in the United States, the war on our sisters and their husbands and their brothers overseas will be a million times worse. So our job as women in the United States is to stand up and speak out."
People getting off the bus and walking by joined the protest to voice their opposition to a new war. As cars passed by the protest they honked in support of the anti-war message: No U.S. intervention in Syria!
San Francisco
Aug. 29, Photo: Bill Hackwell
In San Francisco, there have been two protests in opposition to a possible U.S. bombing of Syria. On Aug. 29, people gathered at the intersection of Powell and Market streets at 5:00pm. Initiated by the ANSWER Coalition, the protest was endorsed by several organizations, including World Can't Wait, UNAC, Veterans for Peace, Justice for Alan Blueford and others.
Speakers stressed the need to fight against the danger of another U.S. military aggression. Many pointed out the hypocrisy of the U.S. government claiming to be motivated by saving civilian lives while it has so much blood on its hands from past and current military interventions in Afghanistan and Iraq. Following the rally, protesters went on a spirited march to Union Square, where the message of opposition to another imperialist war was taken to a large number of people. Many passersby expressed support for the cause of the demonstration, reflecting the large majority of the people in this country who are opposed to bombing Syria.
On Aug. 31, there was another protest at noon at Powell and Market, also initiated by the ANSWER Coalition, attended by over 200 people. Protesters were encouraged that word of the anti-war actions was reaching more people. After the rally, protesters marched down Market Street to the UN Plaza. Demonstrators were chanting: "U.S. NATO, Hands Off Syria!" and "The Real Road to Peace, U.S. Out of the Middle East." The fact that two protests called on such short notice were well-attended suggests that anti-war and progressive people are ramping up for a period of heightened activity in the face of the danger of another U.S. bombing campaign against the people of the Middle East.
Do you like this post?