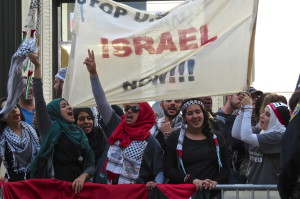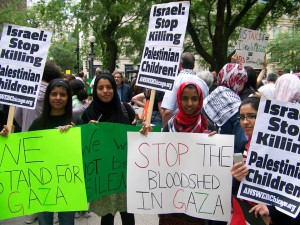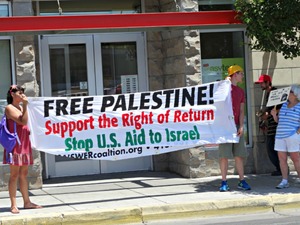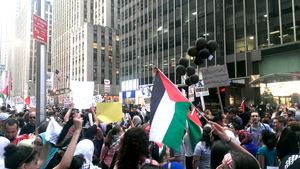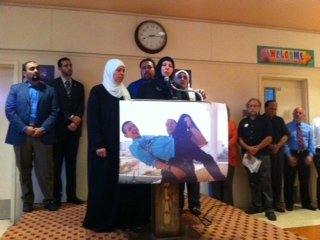 Across the United States and around the world, people have been taking to the streets to oppose the heightened Israeli repression in the West Bank and bombing campaign in Gaza. Below are series of reports from just some of the protests that have taken place across the country. Upcoming actions will be listed on the ANSWER homepage as they are scheduled.
New York City, N.Y.
On July 9, thousands of supporters of Palestine gathered in front of the Israeli Consulate in New York City to demand an end to the U.S. funded airstrikes that have been pummeling Palestine and demand that U.S. media provide accurate coverage of Israeli terror. This occurred at the same time that the death toll increased in Gaza on the second day of Israel's airstrike offensive.
San Francisco, Calif.
As Israeli bombs began yet again to rain down on Gaza, a spirited crowd gathered in front of the Israeli Consulate in San Francisco on Monday to demand an end to Israel's collective punishment of the Palestinian people, an end to U.S. aid to Israel, freedom for Palestinian political prisoners, and an end to the Israeli occupation of Palestine.
The crowd at the Consulate swelled as people got off from work, with Palestinian-American youth forming the largest contingent. Back-and-forth call-and-response chanting from two sides of the street echoed in the urban canyon, forcing a tiny group of opponents waving Israeli and U.S. flags to remain silent, holding signs with the laughable claim that "Israel wants peace." In one of the few speeches given during the rally, Richard Becker, Western regional coordinator of the ANSWER Coalition, noted that the signs would be accurate if they only changed one letter – "Israel wants a piece of Palestine, and another piece, and another piece." Dr. Hatem Bazian, a lecturer at UC Berkeley and a well-respected Palestinian solidarity activist, also spoke.
Chicago, Ill.
Hundreds of protestors gathered at Water Tower Plaza in Chicago June 5 to condemn the escalation of violence being perpetrated against Palestinians at the hands of the Israeli military in recent weeks.
As the crowd gathered, including busloads of people from the surrounding suburbs, several heartfelt speeches were given, one by a young woman with Students for Justice in Palestine and Depaul Divest who criticized the U.S. complicity in the violence, saying, "Israel is able to act with impunity because of the political and economic support of the U.S."
Sacramento, Calif.
16-year old Mohammad AbuKhdeir was standing outside of his family home in Jerusalem one evening just like any other night. The daily fast for Ramadan was about to end and he was waiting to break fast with friends and family, and to pray together. Three men pulled up in a car and asked for directions. AbuKhdeir gave them directions but before he could react the men pulled him into the car and sped off. They beat, stabbed and set the young boy on fire. His body was found in a Jerusalem forest hours later.
AbuKhdeir had many family members in California and on July 3 the family spoke out at a Sacramento press conference and community gathering.
San Jose, Calif.
More than a hundred protesters gathered on short notice July 4 at a busy intersection in San José, Calif., to protest the brutal killing of 16-year-old Mohammed Abu Khdeir in occupied Palestine. Thousands of Palestinians had mourned and demonstrated their outrage at the funeral for the teen held in east Jerusalem earlier the same day.
Albuquerque, N.M.
The University of New Mexico chapter of Students for Justice in Palestine initiated an emergency protest in Albuquerque on July 5 to condemn the latest round of attacks by the Israeli military against the people of Palestine. Activists, including organizers from ANSWER New Mexico, gathered at the intersection of Tulane & Central, which is the site of weekly pickets that call for an end to all U.S. funding to Israel.
Seattle, Wash.
Saturday, July 5 saw a spirited protest in downtown Seattle in solidarity with the Palestinian people.
Organized by Voices for Palestine, the protest lasted for two hours. The mostly young, Arab and Muslim participants chanted energetically and waved flags and signs on both sides of Pine Street near Westlake Park.
 San Jose, Calif.
 Seattle, Wash.
Los Angeles, Calif.
Los Angeles, Calif.
On July 8, over 300 people rallied outside the Israeli Consulate against the collective punishment of the Palestinian people, and the latest massacre currently being inflicted on the people of Gaza. It was the largest showing of solidarity with Palestine to happen in LA in several years. 
As Israel continues its murderous assault on civilians in Gaza, we will remain prepared for more actions soon.
In addition to being in the streets, ANSWER will be holding a special community forum on understanding the aims of the U.S. government and Israel in Palestine and the entire region--and how to build successful resistance to those aims.
Do you like this post?