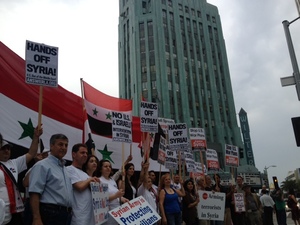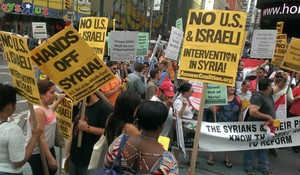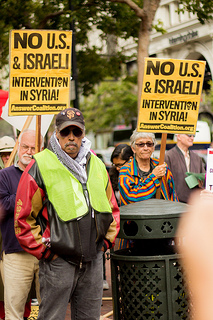 Beginning June 28, people across the country have responded to the united call for national days of action to oppose U.S./NATO and Israeli intervention in Syria. Below are brief reports and pictures from just a few of the protests. More comprehensive reports from a wider range of cities are forthcoming as demonstrations continue.
Already, actions have taken place in Seattle, Boston, Buffalo, New Haven, Chicago, New York City, Los Angeles, San Francisco, Sacramento, Albuquerque and more.
Initiating and endorsing organizations included the ANSWER Coalition, United National Antiwar Coalition (UNAC), United for Peace and Justice (UFPJ), Arab Americans for Peace, Arab Americans for Syria, Veterans For Peace and more. Many prominent individuals also joined the call, including former U.S. attorney general Ramsey Clark; former Congressperson Cynthia McKinney; Akbar Muhammad, International Representative of the Nation of Islam; and Heidi Boghosian, Executive Director of the National Lawyers Guild.
In Los Angeles, demonstrators gathered on July 10 at one of LA's busiest intersections and public transportation hub, distributing informational leaflets to scores of people taking local trains and busses. Present at the demonstration were several U.S. military veterans. A young U.S. Navy veteran, who recently left the military, spoke at the rally, stating: "When I was in the Navy we were told every day to fear Iran and Syria. But we remember them telling us the same thing about Iraq, so we don't believe them anymore. Now we know that we have more to fear from our own government than the people they tell us are our enemies."
A large banner reading "No war on Syria!" was visible to thousands of passing vehicles, with signs of "U.S. out of the Middle East" lining the streets. Many pedestrians passing by stopped and joined the demonstration or took literature with information about the evolving situation.
In San Francisco, protestors assembled on July 10 in the heart of downtown, reaching thousands of rush hour commuters and tourists. The action was held under a banner that calls for both freedom for Bradley Manning and no new war against Syria.
Demonstrators chanted "U.S., NATO, hands off Syria!" and "money for jobs and education, not for war and occupation!" making the link between attacks on vital social services at home and attacks on our sisters and brothers around the world. Speakers from WORD (Women Organized to Resist and Defend), Students for Justice in Palestine, Code Pink, and many other groups addressed the crowd.
In New York City, a spirited demonstration was held on July 10 outside the Times Square military recruitment station. Surrounding the building, protesters drew the connection between aggression against Syria and prior and ongoing attacks on the people of Afghanistan, Iraq and Libya.
As we publish (on July 11), demonstrators are taking to the streets in Albuquerque to show solidarity with the people of Syria in the face of U.S./NATO and Israeli aggression.
Click here to read a report about a protest that took place in Chicago on June 18. Protests have continued there each Tuesday through July 9.
Click here for a complete list of demonstrations continuing through July 17.
Do you like this post?