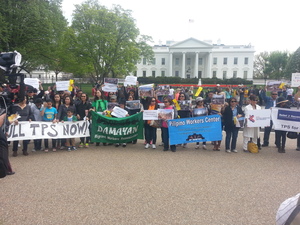 Filipino immigrant workers from across the United States and supporters traveled to the White House on April 25 for a powerful action in front of the White House. A rally and "die-in" demanded protection from deportation for Filipino immigrants in the wake of Typhoon Yolanda and the Bohol earthquake.
Typhoon Yolanda (Haiyan), one of the most powerful storms ever recorded to hit land, struck the Philippines on November 8, 2013. Millions were affected by the storm, which killed nearly 6,200 people and injured tens of thousands. It has caused an estimated $895 million in damages.
"Temporary Protected Status" (TPS) is temporary protection from deportation that would allow many undocumented Filipinos in the United States permission to work for 18 months. Only the Secretary of the Department of Homeland Security can designate a country for TPS.
Filipino advocacy groups have been demanding TPS from the Obama administration since the typhoon hit nearly six months ago. The protection would allow undocumented Filipino immigrants in the United States to continue supporting their families back home. Remittances amount to approximately 10 percent of the gross domestic product of the Philippines.
Rosalina, a housekeeper in Manhattan for 17 years and a member of Filipino domestic workers' organization Damayan, lost her home in the Philippines. She explained, "Typhoon Haiyan took everything that I had built for 17 years. And now I'm fighting to keep supporting my family."
The rally was organized by the Relief 2 Recovery Coalition, a national coalition of immigrant worker centers and rights groups, including the Pilipino Workers Center-Southern California, Damayan Migrant Workers Association (New York), Filipino Advocates for Justice (San Francisco), the National Queer Asian Pacific Islander Alliance and the National Domestic Workers Alliance. The action was supported by the Not One More Deportation Campaign, KAYA - Filipino Americans for Progress and the ANSWER Coalition, among others.
This action was followed by a large rally and civil disobedience action at the White House on April 28 as part of the Not One More Deportation campaign. Thirteen people were arrested as part of the civil disobedience. Supporters included hunger strikers who have traveled to D.C. to demand that the Obama administration take administrative action to stop deportations.
Do you like this post?