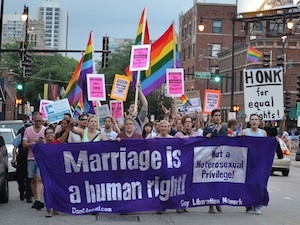 Reprinted from Liberation News
On June 26, 500 members and friends of Chicago's LGBT community rallied in the city's Boystown neighborhood in celebration of the U.S. Supreme Court's ruling that Section 3 of the Defense of Marriage Act (DOMA), which defined marriage as between one man and one woman for the purpose of federal law, is unconstitutional. Though the demonstration was positive and festive, the need to continue to struggle was felt and expressed by the crowd due to the Illinois Legislature's failure to vote on the state's marriage equality bill the previous month.
Months before Democratic President Bill Clinton signed DOMA into law in 1996, Illinois Republican Gov. Jim Edgar approved a statewide ban on marriage equality for same-sex couples. The governor's action occurred in the midst of a national wave of homophobic bigotry culminating in the federal ban.
Those attending the Chicago rally, held at the corner of Halsted and Roscoe Streets, marched out of the Boystown neighborhood with rainbow flags and banners into next-door Wrigleyville, then marched and chanted past Wrigley Field as people came onto the sidewalks to observe.
Marchers chanted, "What do we want? Equal Rights! When do we want them? Now!" and "Hey Obama, we won't wait, nationwide not state by state!" Cars passing by honked their horns and supporters threw confetti from apartment windows. Marchers from WORD (Women Organized to Resist and Defend) carried placards reading "Full Federal Equality Now!"
The event was organized by the Gay Liberation Network and lawyers from The Civil Rights Agenda, and was supported by WORD, the Party for Socialism and Liberation, the Illinois Unites for Marriage Coalition, and the Metropolitan Community Church.
The Chicago LGBT community celebrates the victorious overthrow of DOMA, and will continue the fight until there is full marriage equality, not just in Illinois but in all 50 states.
Do you like this post?