ANSWER Coalition leaders and organizers will make presentations and receive awards at the upcoming National Conference on Socialism in Los Angeles. The Nov. 13 and 14 event will feature two days of speakers, panels, organizing sessions, discussion and entertainment at the University of Southern California campus. Hosted by the Party for Socialism and Liberation, hundreds of workers, students, organizers, anti-war activists and progressive people will come together from across the United States.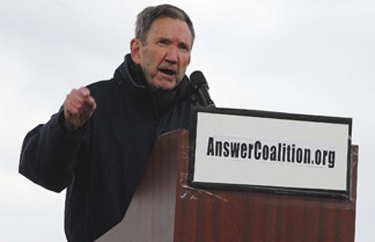 Former U.S. Attorney General Ramsey Clark
2010 Fighters for Justice Award Honorees
| | | |
| --- | --- | --- |
| | |   |
| Mumia Abu-Jamal | Leonard Peltier | Lynne Stewart |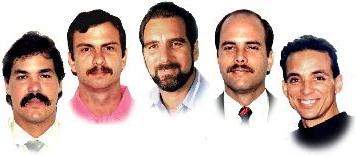 The Cuban Five (from left to right): Ramón Labañino, Fernando González, Rene González, Gerardo Hernández and Antonio Guerrero.
| | | |
| --- | --- | --- |
| | |   |
| Albert Woodfox | Herman Wallace | Robert Wilkerson |
The conference will begin at 9:30 am on both days. It is an all-weekend event. We encourage everyone to attend the entire conference.
On Saturday night, Nov. 13, beginning at 6:30 pm, there will be a special International Solidarity and Awards Session, featuring speakers and statements from international groups and national liberation movements in the United States.
Former U.S. Attorney General Ramsey Clark is confirmed as a featured speaker. He will present the PSL's first-ever "Fighters for Justice, Champions of Freedom" awards to some of the recipients, which include political prisoners, radical lawyers and longtime grassroots leaders.
Click here to register for the conference in Los Angeles. 
Fighters for Justice
The Fighters for Justice Award will be presented to political prisoners for their decades of struggle and perseverance before and during their unjust incarceration. The 2010 award recipients are:
Mumia Abu-Jamal: Revolutionary African American journalist unjustly imprisoned since 1981. His writings and commentaries resonate with working-class and poor people across the world.
Leonard Peltier: Native American political prisoner and American Indian Movement leader unjustly incarcerated since 1976.
The Cuban Five: Gerardo Hernández, Ramón Labañino, Rene González, Antonio Guerrero and Fernando González. The Five are Cuban nationals incarcerated for infiltrating right-wing terrorist organizations in Miami.
Lynne Stewart: Radical lawyer serving an outrageous 10-year federal prison sentence. Stewart is guilty of nothing more than ardently advocating for the most oppressed and championing freedom and liberation. 
The Angola 3: Albert Woodfox, Herman Wallace and Robert King Wilkerson. Thrown into solitary confinement for decades, these heroic African American men were silenced for trying to expose segregation, corruption and abuse in the country's biggest prison. Woodfox and Wallace remain in solitary confinement. Wilkerson was released from prison in 2001.
Champions of Freedom
The Champions of Freedom Award will be presented to radical lawyers and longtime leaders in the struggle for justice and equality and against imperialism. The 2010 award recipients are:
Mara Verheyden-Hilliard and Carl Messineo: Partnership for Civil Justice Fund
Carol Sobel: National Lawyers Guild
Muntadhar al-Zaidi: Iraqi journalist who threw his shoes at then-President George Bush in 2008. Al-Zaidi was imprisoned and tortured for his anti-imperialist actions. He continues to advocate for the Iraqi people and struggle against colonial occupation.
Mary Harb: Palestinian American Women's Association
There will also be a tribute to the late Lucius Walker, Executive Director of IFCO/Pastors for Peace.
Additional speakers
Some of the other speakers at the National Conference on Socialism include the following well-known activists and organizers:
Heidi Boghosian: Executive Director, National Lawyers Guild
Brian Becker: National Coordinator, ANSWER Coalition
Gloria La Riva: ANSWER Coalition; Coordinator, National Committee to Free the Cuban Five
Imam Mahdi Bray: Executive Director, Muslim American Society Freedom
Mike Prysner: Iraq war veteran; Co-founder, March Forward!
Jollene Levid: National Chairperson, AF3IRM
Eugene Puryear: Editorial Board, Liberation newspaper
Ron Kovic: Vietnam Veteran; author, Born on the Fourth of July
Ken Lerch: President, National Association of Letter Carriers (NALC) Branch 3825
Dr. Henry Clark: Executive Director, West County Toxics Coalition
Izzy Alvaran: Community Outreach Organizer UNITE HERE! Local 2
Jim Lafferty: Executive Director, National Lawyers Guild, Los Angeles
Yousef Abudayyeh: National Coordinator, Free Palestine Alliance
Muna Coobtee: ANSWER Coalition, Los Angeles
Arturo Garcia: Alliance for Just and Lasting Peace in the Philippines
Organizations listed for identification purposes only.
These are just a few of the speakers who will be present. Click here for a full conference schedule.  
We urge you register for the National Conference on Socialism today. Be there and bring your friends, family, co-workers, co-students and everyone you know. Click here to register for the conference. 
Pay the registration fee or make a donation by clicking here.
Do you like this post?