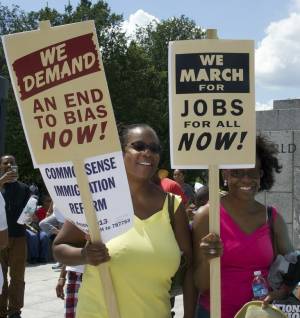 On Aug. 24, over 200,000 people from across the country gathered on the National Mall in Washington, D.C. Arriving on hundreds of buses, trains and carpools, they came to commemorate the historic 50th anniversary of the Aug. 28, 1963, March on Washington for Jobs and Freedom and renew the struggle for economic, social and racial justice that ignited in the 1950s and gained momentum in the 1960s. The 1963 march, which featured Dr. Martin Luther King Jr.'s famous "I Have a Dream" speech, added impetus to the struggle.
The National Action Network and NAACP, supported by a significant sector of labor unions, initiated the 2013 action. The Service Employees International Union; Communication Workers of America; Association of Federal, State County and Municipal Employees; American Federation of Teachers; United Auto Workers; Unite Here! and more filled buses. Immigrant rights and social justice organizations, historically Black colleges and universities and Black fraternities and sororities mobilized significant numbers along with others.
The crowd came with a sense of urgency to continue the struggles against the injustices highlighted in 1963 as well as new areas of oppression. While significant progress has been made as a result of anti-racist organizing, participants recognized the need for further work.
Sense of urgency
"With the unjust verdict in the Zimmerman case, the gutting of the Voting Rights Act and everything in the last 50 years, we've got to let our voices be heard and our bodies shown. We have a long way to go before we have social and economic justice for African Americans in the USA," said Catherine Thomas of Camp Springs, Md. The not-guilty verdict for George Zimmerman as well as the Supreme Court's gutting of the Voting Rights Act were two of the many issues highlighted at the gathering.
The fact that, while significant progress has been made, there is still much work to be done for racial justice in the United States was a common theme among many people interviewed by Liberation News.
The image of Trayvon Martin was displayed prominently. Signs, buttons and posters were everywhere, reflecting the anger that exists over the acquittal of George Zimmerman in Martin's killing. Debbie, a D.C. resident, told Liberation News: "Trayvon got a lot of notoriety. It happens more than we know. It's happening every second of every day to young men in the courts and schools and every venue they're exposed to. It's so unfair."
Of the police and courts that finally were forced to put Zimmerman on trial, Debbie said: "The farce of a trial was a way to show people they knew they were being looked at. They did not intend to afford him [Martin] any justice."
Differences between 1963 and 2013
There are significant differences between the 1963 and 2013 mobilizations. In 1963, the march represented a rising mass movement targeted against the establishment, a movement built on the struggles of the late 1950s and early 1960s that were successfully using mass-action methods to arouse opposition to segregation. In contrast, many key organizers of the 2013 mobilization represent mainstream forces, many of whom sought to promote their own agendas of directing mass anger in directions beneficial to their own political positions.
Erick Johns, a life-long native of Washington, D.C., said he still sees a lot of oppression in the city, particularly in the forms of unemployment, police brutality and "food deserts." (The USDA defines food deserts "as urban neighborhoods … without ready access to fresh, healthy and affordable food.") Johns continued: "What do we do tomorrow? I'd like to see more solidarity with one another. History was made in 1963, and we've come a long way. Obama got elected and that was big, but today as a Black man living in D.C. that doesn't make a difference to me in the end. I'm still struggling."
As abolitionist Frederick Douglass said: "Power concedes nothing without a demand. It never did and it never will." Progressive people must unite to fight attacks on all the oppressed.
The 50th-anniversary mobilization marked a historic date in the struggles for economic and social justice. The anger and passion of the multitudes of people who descended on the Capitol showed that the struggle is not over.
Reprinted from Liberation News and edited for length. Click here to view the full article
Do you like this post?