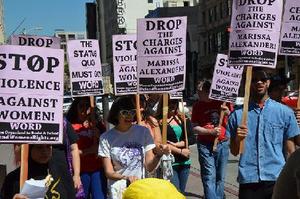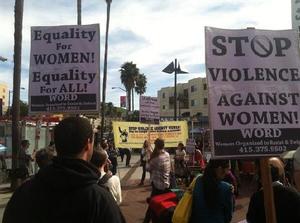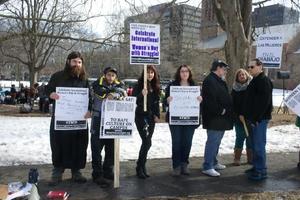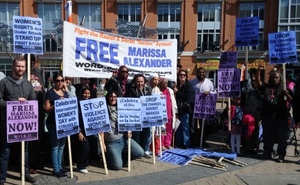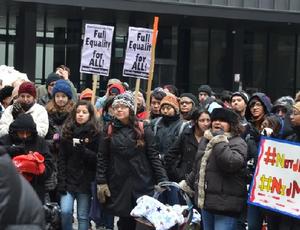 The ANSWER Coalition actively supports the work of Women Organized to Resist and Defend (WORD)

On International Women's Day 2014, WORD organized actions in cities across the country under the banner of "Women's Rights Are Under Attack, What do we do? Stand up, fight back!" Across the country, we demanded Stop violence against women - Drop the charges against Marissa Alexander - Full reproductive rights now.
International Women's Day is historically a day of action for women's rights that was born out of working women's struggles for better wages and fair working conditions. It is celebrated across the world as a day of mass mobilization against the oppression of women in all spheres of society. From Los Angeles to Albuquerque to Philadelphia to New York City and elsewhere, people gathered in rallies, marches and forums to defend women's rights against growing attacks mounted by right-wing forces in the United States.
Below are reports from some of the cities that held actions that day.
Los Angeles, Calif.
At Pershing Square in Downtown LA, WORD Los Angeles held a street rally to raise awareness about the case of Marissa Alexander and violence against women. Pershing Square is in the middle of one of the busiest streets downtown and is one of the busiest Metro station stops. Holding placards and banners, WORD activists distributed hundreds of Marissa Alexander fact sheets and signed up scores of people to support the movement.
Students from L.A. City College, Santa Monica City College, Rancho Cucamonga, East LA City College, California Institute of the Arts and others were represented. Joined by AF3IRM, MEChA - UCI, ANSWER Coalition, campus feminist groups and more, a speak-out covered the issues that were being highlighted at the action. WORD organizer Jacqueline Villagomez spoke about the case of Marissa in Spanish, and WORD organizer West Seegmiller gave a powerful speech on anti-trans violence, issues facing trans youth and told the story of CeCe McDonald.
Chants of "Free Marissa—We've got to fight back!" and a banner reading "Drop the charges against Marissa Alexander—Fight racism and Domestic Violence" (carried on one end by a six-year-old girl named Sally!) led a march around the park, along LA's busy downtown streets. The rally continued after speak-outs around Pershing Square demanding the charges be dropped against Marissa. The favorite chant of the crowd was "When women's rights are under attack, what do we do? Stand up, fight back!"
Participants joined a social event at the WORD office afterwards and discussed building the women's movement.
San Francisco, Calif.
A crowd gathered at 24th and Mission Streets to celebrate International Women's Day in San Francisco as part of a speak-out sponsored by WORD SF. Sacramento labor organizer Yeimi Lopez and WORD SF organizer Sarah Carlson emceed the event. Speakers addressed the ongoing issues of violence, racism, poverty and attacks on reproductive rights that continue to oppress women. A significant component of the event was devoted to the recognition of the women who have come before us in the struggle for equality, and the need to continue to organize and fight.
New Paltz, N.Y.
POWER organizer Gloria spoke, saying "This is not a protest, this is a celebration ... but we must continue to challenge sexism, and we must do it as organized women." Members of the community were very supportive of the event. One young woman had never spoken out before delivered an impassioned speech criticizing the system of oppression that denies women full access to health care and allows violent and sexist treatment of women to continue. She noted that a year ago she would never of imagined joining a speak-out in defense of women's rights but the current conditions had propelled her to become an activist. She encouraged others to do the same.
New Haven, Conn.
WORD's chapter in New Haven, Conn., was honored to join the Love-a-Fair, a grassroots community event held on the Green in the center of the city. The event included a broad clothing and food giveaway for the homeless and poor, and a lineup of speakers and performers from local schools and community organizations.
New York City, N.Y.
Organized by homeless rights activist and New Haven community member Jesse Hardy, the event brought together hundreds of people from the area to speak about coming together, organizing, and providing and receiving much-needed services. WORD took part in the program by speaking about Marissa Alexander's case, International Women's Day and the importance of community gatherings like the Love-a-Fair. WORD's presence included people from many backgrounds: students fighting against rape on campuses, lawyers, workers, LGBTQ rights organizers, and others from all over Connecticut and out of state.
The action was extremely successful, pooling over a hundred signatures on the petition to free Marissa Alexander, and establishing meaningful connections between WORD and the heart of the New Haven working-class community.
Washington, D.C.
Syracuse, N.Y.
In D.C., WORD organized a speak-out and rally in a busy area of Columbia Heights, a multinational neighborhood in Northwest. Dozens of people volunteered to carry banners and signs demanding that the charges against Marissa Alexander be dropped and that violence against women end.
Hundreds joined the speak-out, picking up literature and signing petitions demanding justice for Marissa. Speakers from the community and supporters of Marissa Alexander took to a public mic to demand an end to violence against women and an end to the persecution of Marissa. WORD organizer and domestic violence advocate Asantewaa Nkrumah-Ture demanded an end to violence against women everywhere, explaining that women in D.C. and around the country are "fighting for our lives."
Dozens of other visited an action table, where people sent letters to Florida State Attorney Angela Corey's office demanding that charges be dropped. People also wrote messages of solidarity with Marissa to spread on social networking.
Chicago, Ill.
In Chicago, WORD celebrated International Women's Day by joining Out of the Shadows: No More Deportation Rally. The rally was held at Federal Plaza, where people came out of the shadows as undocumented and stood in solidarity with all oppressed people.
WORD placards read "Full Equality for ALL," which was the sentiment that was shared among those involved in the rally. The rally included musical performances and speakers, including women speaking out to demand an end to having their families torn apart and inhumane treatment by ICE. Speakers also addressed their experiences of being undocumented women. Sara Bruseno shared: "That girl in 2010 was afraid ... I couldn't imagine that that same girl in 2013 would stop a deportation bus."
WORD Chicago attended the No More Deportation Rally on International Women's Day to stand in solidarity with our undocumented sisters and brothers. Many signed a petition stating 'Equality for ALL' because the undocumented struggle is real for many women that remain oppressed with unjust laws and stigmas within the United States. We will continue to stand with our undocumented sisters and brothers not only on IWD, but every day because the struggle for women's rights has no borders.
Albuquerque, N.M.
People gathered at a rally organized by WORD in Albuquerque to speak out for International Women's Day. The event was also endorsed by Albuquerque Center for Peace & Justice, Cop Watch, Feminist Caucus of the Humanist Society of NM, Get Equal, National Organization for Women (NOW), Raging Grannies and the South West Women's Law Center. A multinational group of women, both young and old, spoke out against sexism, anti-LGBTQ bigotry, transphobia, racism, and in solidarity with the immigrant community. In Albuquerque, progressive forces defeated a proposed abortion ban this past November but the anti-choice forces are threatening the right to abortion yet again—particularly targeting women's health clinics. This was an important rally for women's rights attended by women who have been fighting for women's rights for decades and women who had never been to a rally before.
New Paltz, N.Y.
International Women's Day was celebrated in New Paltz March 6 at an exciting public meeting in the auditorium of the State University of New York, organized primarily by Mid-Hudson WORD. An audience of 120 people, about half students, attended the two-hour meeting that produced 92 signatures to free Marissa Alexander. The event began with the video of a five-minute feminist version of Lady Gaga's "Bad Romance," depicting the long struggle for the right to vote.
Among the speakers were three women members of the 30,000-strong United University Professions (UUP) representing academic and professional staff in the SUNY system. They included Donna Goodman, an elected union delegate and chair of the WORD chapter; Ilgu Ozler, Professor of Political Science and International Relations and chair of Mid-Hudson Amnesty International; and Lydia Johnson, of the UUP Stony Brook chapter and president of the local Coalition of Labor Union Women. Other speakers included Leah Obias of the Filipina activist organization Damayan; Himali Pandya of Grace Smith House (a women's and children's shelter in the region); Daniella Monticciolo of the campus Feminist Collective (and campus rugby team); and Kelvin Then of the campus slam poetry group Urban Lyrics.
Goodman led off with a discussion of the long, hard struggle to win past victories in the quest for female equality and the need for even sharper struggles to win new gains while protecting earlier advances from being dismantled by the right-wing War on Women. Calling for building a fighting independent women's movement, she identified future targets including pay equity, ending violence against women, and demanding that the political system come forward with significant social programs for women and all working people. Ozler reported on the international struggle for women's rights, and Johnson reached back from the 1800s until today to name a dozen women who made important contributions to building the union movement, concluding "A woman's place is in her union." Obias told a hushed audience about the super exploitation and cruelty that is the lot of so many low-wage Filipina workers who emigrate to the United States in search of jobs and income to help support their families back in the Philippines. Few if any of the students seemed aware of the suffering of these virtually trafficked women and they loudly applauded a brief film depicting the work of Damayan in organizing and standing up for these workers.
Over two dozen organizations endorsed the indoor rally, including New York Civil Liberties Union, Mid-Hudson Valley Planned Parenthood, Working Families Party, Coalition of Labor Union Women (CLUW), Hudson Valley Area Labor Federation, Upper Hudson Central Labor Council, and United University Professions (UUP, SUNY NP chapter), as well as student and local groups.
New York, N.Y.
On March 8, over a 150 people gathered at St. Nicholas Park in Harlem to celebrate International Women's Day in struggle. At the rally WORD members and their allies in Association Pro-Inmate Netas, Damayan Migrant Workers, Planned Parenthood, New York State Youth Leadership Council, Marea Violeta and the ANSWER Coalition addressed many topics, including the history of International Women's Day, demanding justice for Marissa Alexander and against attack on women within criminal justice system, the inequality that still presents itself for women in the workplace, and the need for reproductive justice and access to healthcare, to name a few.
An inspiring march form Harlem to the Bronx ending at Hostos Community College following the rally. WORD organizers held a banner that read "Stop the Violence Against Women Everywhere" and handed out flyers demanding that the charges against Marissa Alexander be dropped. The community was very receptive as the march passed through the streets chanting "Marissa means we got to fight, no justice means we got to fight back, racism means we got to fight back, sexism means we got fight back." Many onlookers joined in the march.
In her closing remarks, WORD member Graciela Pichardo stated: "It is our duty—as we stand here and think about Cece McDonald, Marissa Alexander, Islan Nettles and the many other women whose attempt to defend themselves was dismissed, whose attempt to defend themselves was ignored, or who did not know they could defend themselves—to exercise our right to self-defense. And when I say self-defense I just do not refer to our right to fight back with guns and fists, but also to fight back as a collective body, to fight back in the form of building a militant women's movement that will destroy this racist, patriarchal, anti-LGBTQ and transphobic system. We cannot continue to wait for the system to work for us, because the truth is that we cannot reform a system that was never made for us. The time to organize and defend ourselves is now."
Syracuse, N.Y.
People gathered in Clinton Square in downtown Syracuse on a sunny Friday afternoon to celebrate International Women's Day. Maddie Horrell, a Syracuse WORD organizer, gave a speech about the three demands that they would make: to drop all the charges against Marissa Alexander, to stop the attacks on reproductive rights, and to stop violence against women. Her speech also emphasized the relationship between race, class, and gender in the women's struggle, touching on the need to include trans voices and stories in the struggle around domestic violence and reproductive health.
After the main speech, Maddie opened up the floor to comments in an "open mic" style, and three speakers from the crowd shared their own thoughts and stories. During this time, a workers' rights activist from Syracuse shared a tearful story about young migrant women who come to Upstate New York to work on dairy farms, and the many ways in which they are exploited.
The event was quite interactive; in addition to the "open mic" period, tables also stood around the plaza at Clinton Square with paper and markers, inviting participants to share their own answers to the prompts "I'm Here to Resist ..." and "I'm Here to Defend ..." as well as to add to the stated list of demands. Overall, the event proved very successful, rousing and inspiring, attracting new students who expressed interest in getting involved, and attracting passers-by to join the struggle.
Philadelphia, P.A.
In Philadelphia, WORD members co-sponsored an interactive forum with the Black Student Union at Temple University. The discussion focused on making the connections between women's oppression and issues impacting the community, and the need to organize around these issues. Students and community members attend the event. During the discussion period, those present made the connection between the struggle for justice for Marissa Alexander, mass incarceration and this system's failure towards providing women true justice. All the students agreed that women should be organized in every community and especially on the Temple University campus.
Do you like this post?