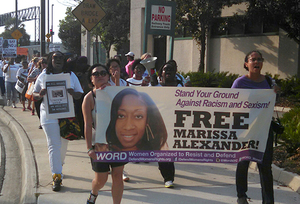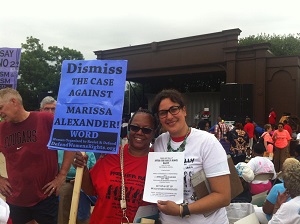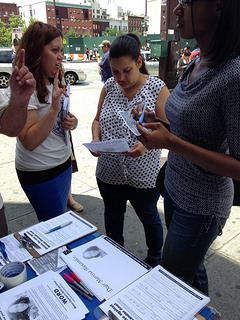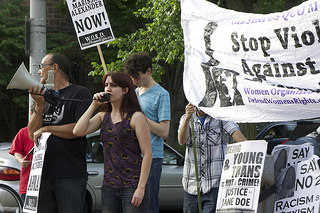 The ANSWER Coalition actively supports the work of Women Organized to Resist and Defend (WORD)

Marissa Alexander faces a mandatory minimum sentence of 60 years in prison for defending herself during an attack by her abuser, shooting a single warning shot that injured no one. Earlier in June, Judge Daniel postponed Marissa's trial, which had been set to begin on July 28, 2014. The trial was delayed in consideration of the effect of recent amendments to Florida's racist Stand Your Ground law. This was the law that the State of Florida invoked to delay pressing charges against murderer George Zimmerman for 45 days.
On July 18, Judge Daniel denied Marissa's request for a second Stand Your Ground hearing, ruling that amendments to the law could not apply retroactively to her case, but that if she was convicted, she could at that point argue that new amendments prohibited the imposition of mandatory minimum sentences, which in Marissa's case total 60 years. This means that Marissa's trial is scheduled to proceed on Dec. 8, despite the fact that her case has been cited as an inspiration for changes to the law encompassing warning shots. The Stand Your Ground law has been applied to protect racist murderers from prosecution. If it were not a racist law, it would protect Marissa from prosecution as well. Women around the country will continue to organize in the streets until the case is dismissed or until Marissa is ultimately free.
Over June 20 – 21, actions took place across the country to raise the visibility on Marissa Alexander's case. The actions demanded that Judge James Daniel dismiss the case against Marissa. Then, on July 28, supporters from across the country converged on Jacksonville, FL, to raise Marissa's case as part of Standing Our Ground Week.
Jacksonville, FL
On July 28, protesters from across the South and the country marched on the Duval County Courthouse in Jacksonville, Fla., where Marissa Alexander is due to go on trial on Dec. 8th. The action followed a weekend of workshops, planning sessions and other activities aimed at her release. Activists and community members of all ages met at the Crowne Plaza on the south bank of the St. Johns River. They marched over the Main St. Bridge, shouting chants like "Up up with liberation, down down with incarceration!" and "Hey hey! Ho ho! Angela Corey's got to go!" When Marissa's supporters reached the Duval County Courthouse, their songs of hope and struggle echoed around the building. The police forced them to stop using bullhorns and surrounded the throng of people in caution tape during a press conference.

In the field outside the courthouse, supporters linked arms in a large circle of solidarity to listen to speeches by Free Marissa Now, Sister Song, WORD, Coalition Against Domestic Violence and others. Women leaders spoke out about how the injustice happening to Marissa is part of a broader system that criminalizes the Black community, disempowers women and mothers, and holds down youth and poor people. Pointing at the courthouse, they demanded State Attorney Angela Corey drop the charges against Marissa and step down.

"We're out here because we recognize that we live in an America that absolutely will not protect Black women," said Cherisse Scott of Sister Reach, "that we live in an America that absolutely will not make sure we have access to reproductive and sexual health education, that we have access to contraception, and that we are free from violence."

"We're here today to fight the system that tells us repeatedly that Black lives do not have value, that Black women cannot defend themselves, that Black women and Black children and men were never meant to survive," insisted Peta Lindsay of WORD. "We came out here today to stand for Marissa Alexander, just like we stood for Trayvon Martin, stood for Eric Gartner, stand for our brothers and sisters in Palestine that are also fighting a racist system. We know that we have to had fight and organize for every right we've won in this country, every right and every consideration, any respect from the law. It was never handed to us. So we have to stay organized and stay in the streets."

Afterwards, the march left to hold a People's Tribunal at the Mayor's office and other wrap-up activities to ensure that the campaign continues to move forward in the weeks and months ahead.
San Francisco, Calif.
On June 21, WORD-SF rallied to demand that Judge Daniel dismiss the charges against Marissa Alexander. The rally, held at Powell and Market, reached out to hundreds of people at the very busy square. WORD organizers and supporters held picket signs, passed out hundreds of informational leaflets and collected petition signatures. Teachers, communications workers, activists, independent radio journalists and others spoke to demand freedom for Marissa Alexander. Many of the speakers also made the connections between Marissa's case and the broader issues of racism and sexism confronted by hundreds of thousands of women caught up in the so-called "justice" system as well as the need to end domestic and sexual violence. WORD organizers will continue advocating for Marissa over the summer at SF PRIDE the following weekend and JazzFest in July.
Washington, D.C.
In Washington, D.C., supporters of Marissa Alexander rallied on June 21 at the Sylvan Theater, in front of the Washington Monument on the National Mall. Called the "Free Her Rally," the rally drew attention to the devastating effects of mass incarceration on women. Hundreds of activists and community members held signs and signed petitions demanding that the case against Marissa Alexander be dismissed.
The Free Her Rally was organized by Families for Justice as Healing, and supported and attended by many organizations, including WORD chapters from the D.C. area, Philadelphia and New Haven, Conn.
Attorney Nkechi Taifa and organizer Karen Garrison raised Marissa's case in speeches from the rally stage. Ms. Garrison, of MommieActivist and Sons Radio Show, Families Against Mandatory Minimums, and the Free Marissa Now Mobilization Campaign (DC region) summed up the action by saying, "Today a whole lot of women are here [fighting] mass incarceration, over incarceration … All of them are connected because it's injustice. Families are impacted, neighborhoods are impacted."
Attendees traveled from along the East Coast to participate in the rally. Attorney Janelle Johnson traveled from Pittsburgh so she could "show support for the women who are in jail … showing that there are people standing behind them." She also voiced her concern for the "children [of incarcerated mothers] who are left behind." Marissa is a mother of three children, and had given birth to her youngest daughter just days before she was attacked and arrested.
New York, N.Y.
In NYC, Marissa Alexander supporters set up on a busy intersection in Harlem on 125th and Lenox on June 21 for a day of community outreach on Marissa's case. They brought a bullhorn, hundreds of flyers and petitions, and explained Marissa's case on an open mic.
Dozens of men and women, small children, families, stopped on their own accord to find out who was the woman on the banner and why was she in prison. The cruelty and the injustice of a system that punishes women for standing up against violence and protecting their families and their lives, while allowing the perpetrators of violence, like Marissa's ex-husband, and people like George Zimmerman, to walk free was outrageous for so many.
Activists and community members took photos with messages of support to Marissa. "We love you, Sister," and, "stay strong," were common themes in the messages. The community was shocked to hear that all Marissa did was fire a warning shot. Facing 60 years in prison for warning an abusive ex-husband just doesn't add up. All in all people were happy to contribute in any way they could to reunite her family and put this tragedy behind her. From the Bronx to Harlem, Queens to Manhattan, the people of NYC say, "Free Marissa Alexander! Drop the charges now!"
New Haven, Conn.
In New Haven, women's rights activists and community supporters came together on June 20 to demand justice for Marissa Alexander, as well as freedom for 16-year-old Latina trans girl Jane Doe, a survivor of abuse and trafficking perpetrated by Connecticut Department of Children and Families who had been locked-up without charges in an adult prison. In July, Jane was transferred to a locked facility for boys.
Passers-by stopped to hear what was being said and offer their support. Many people had heard of Alexander's case, but many others were hearing her story for the first time and were outraged.
"Why are child molesters getting less time than her?" asked one person in the crowd.
Zephyr Strassner, a WORD organizer and queer rights activist, laid down some hard facts. "Marissa Alexander has been put through the prison industrial complex. We have states that have privatized their prisons. That seems to be one of the largest trends among states that cut their taxes. And when we sell these prisons out to corporations, they are giving mandatory minimum percentages that these prisons must be filled up to."
Dozens of people signed the petition to drop all charges against Marissa and to free Jane Doe. Many expressed gratitude for having the opportunity to learn about these cases and take part in a community action to get justice for our unjustly incarcerated sisters.
Do you like this post?