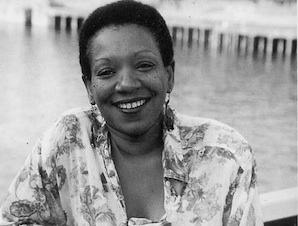 Reprinted from Liberation News
World-renowned Cuban poet Nancy Morejón visited the San Francisco activist center that includes the offices of the National Committee to Free the Cuban Five and the ANSWER Coalition (Act Now to Stop War and End Racism) on June 10 as part of her reading tour of the Bay Area. Nearly 100 persons attended the event.
Morejón, born in Havana in 1944 to militant working-class parents, became the first Afro-Cuban to graduate from Havana University after the 1959 revolution. Today she is both a celebrated literary figure, having won both Cuba's Critic's Prize and National Prize for Literature, and important labor leader, serving as the president of the Writer's Section of the Union of Artists and Writers of Cuba. Her work has been translated into more than 20 languages. Cubana Books, a Chico State-based publishing house committed to releasing the work of Cuban women writers, will publish a new set of translations of Morejón's poetry in 2014 entitled "Piecing Together the Mansion Window."
The evening began with a brief musical performance by Venezuela-based folk duo Bolivar Blues.
Maria Antonia Palmares, of the National Committee to Free the Cuban Five, then discussed the recent Five Days for the Cuban Five, a series of conferences, speak-outs and rallies in Washington, D.C., demanding freedom for four of the five Cuban heroes who remain in U.S. prisons. The five heroes went undercover to report on terrorist activities against Cuba being planned in Miami and were subsequently unjustly prosecuted by the U.S. government.
Mileno also introduced a new video made by the National Committee featuring actor Martin Sheen, in which Sheen demands that President Obama either give the Five a new trial or release them altogether. Then local poet Jorge Argueta read a poem from his award-winning children's book, "Guacamole."
Tony Ryan, a San Francisco-based translator of poetry, introduced Morejón. He described her work as exploring the interconnections between different cultural traditions and identities at play in Cuban society, and in Morejón herself—be they racial (Morejón's ethnic make-up includes Afro-Cuban, Euro-Cuban, and Chinese-Cuban ancestry), national or gender-based.
Role of women in Cuban society
The contradictions and transformations of the role of women in Cuban society was another theme of Morejón's work that Ryan singled out.
Morejón took the stage with two translators, Pamela Carmell, who is one of the poets working to translate the new volume for Cubana Books, and Barbara Paschke. Although fluent in English, Morejón read her work only in Spanish, allowing her translators to present their own versions in English. Most of the poems read were from "With Eyes and Soul: Images of Cuba," a collection of Morejón's work paired with the photography of Milton Rogovin that was published by White Pine Press in 2004.
The first piece in the reading, "New Women," immediately made clear Morejón's gift for evocative verse:
"And their hands, that come from so far away,
from by-gone times,
kneading together the yeasty substance
that makes us live
between the sea and the shores,
between fishes and nets,
between windows and the horizon."
The poem is a celebration both of the foundational role traditionally played by women in society—
"sewing,
hammering,
knitting,
sowing,
cleaning,"
a role often trivialized by patriarchy, and the new roles open to women in post-revolutionary Cuba,
"marching,
conquering,
reading,
loving."
Another poem, "Homing Instinct" was structured as a series of negated scenes of Cuban life—"Not the sea, but ..." instead the shadow of these image-scenes, suggesting perhaps that any sense of cultural belonging—of having a cultural home—comes not from any place or thing but from the network of memories and heritages that brings a people together as a national community.
In "So the Legends Go," Morejón compares the plight of a newly arrived slave in the 19th century to a primordial hunter nervously awaiting a wild prey. The fear of the slave is acknowledged, but Morejón does not victimize the slave, seeing their oppression as only the first step towards the felling of the oppressor.
In "Hour of Truth" Morejón describes Cuban society as "building higher than our isolation" and transcending "their profiteering." She concluded by asking, "How lovely is my land?"
Do you like this post?