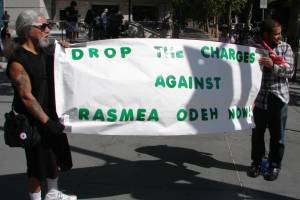 On June 10, activists rallied in front of Martin Luther King Jr. Library in San José to protest the unjust prosecution of 66-year-old Palestinian-American activist Rasmea Odeh.
Odeh is well known in Chicago, where she has worked as associate director of the Arab American Action Network to defend civil liberties and promote immigrant rights. Last year, the Chicago Cultural Alliance bestowed on her its Outstanding Community Leader Award in recognition of her devoting "over 40 year of her life to the empowerment of Arab women."
Last October, Homeland Security agents arrested Odeh after the Department of Justice charged her with "unlawful procurement of naturalization." The DOJ alleges that she improperly omitted mention in the application of having been in prison in Israel. The fact is she was arrested by Israeli soldiers as a 21-year-old university student in her home in Ramallah, tortured, along with her father, for 45 days, and sentenced to prison for a crime she did not commit.
The Obama administration's filing of these charges could result in her being stripped of her U.S. citizenship and deported.
Among the activists who attended the rally was Sherwin Mendoza, who read a statement of solidarity from the International League for People's Struggles-U.S. In a brief interview, he emphasized that Odeh's prosecution is a "violation of basic civil liberties" and "another case of unjust deportation."
The rally was organized by the South Bay Committee Against Political Repression, the San José Peace and Justice Center, and Justice for Palestinians. Activists distributed informational flyers to passersby while solidarity statements were presented and local "dancer of peace" Khalilah Ramirez performed.
Masao Suzuki, of the SBCAPR, announced that Odeh's trial is to start Sept. 2 in Detroit and urged anyone who can attend to do so.
Do you like this post?