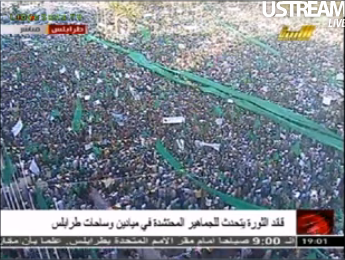 More than one million people in Tripoli demonstrate on July 1 against the U.S. / NATO war.
Dear supporter of the ANSWER Coalition,
We're working on the last-minute preparations for what will be an important emergency action this Saturday, July 9 at 12 noon at the White House to demand the end of the U.S. / NATO war on Libya.
If you can't come but want to support others who want to come, please make an urgently needed donation to subsidize transportation.

People are organizing transportation from various cities to come to Washington, D.C. for this important action. See below for the transportation center nearest you.
If you can help drive others to the July 9 protest, please click here.

We have also produced flyers that you can print to help spread the word about the July 9 demonstration. Click here to download the printable PDF flyer for your city.

Transportation Centers:
New York City, N.Y.
nyc@answercoalition.org · 212-694-8720
Get your $10 bus ticket from New York City to the protest
Pittsburgh, Penn.
pittsburgh@answercoalition.org · 412-651-7719
Get your $10 bus ticket from Pittsburgh to the protest
Philadelphia, Penn.
philly@answercoalition.org · 267-281-3859
Baltimore, Md.
baltimore@answercoalition.org · 443-759-9968
New Haven, Conn.
ct@answercoalition.org · 203-903-4480
Boston, Mass.
boston@answercoalition.org · 857-334-5084
Syracuse, N.Y.
syracuse@answercoalition.org · 315-491-6987
Join us on July 9 to say Stop Bombing Libya, End the Occupation of Afghanistan and Iraq!
If someone forwarded this email to you, click here to sign up to receive analysis and action alerts from the ANSWER Coalition.
Please circulate this widely via email and social networking websites:
Do you like this post?