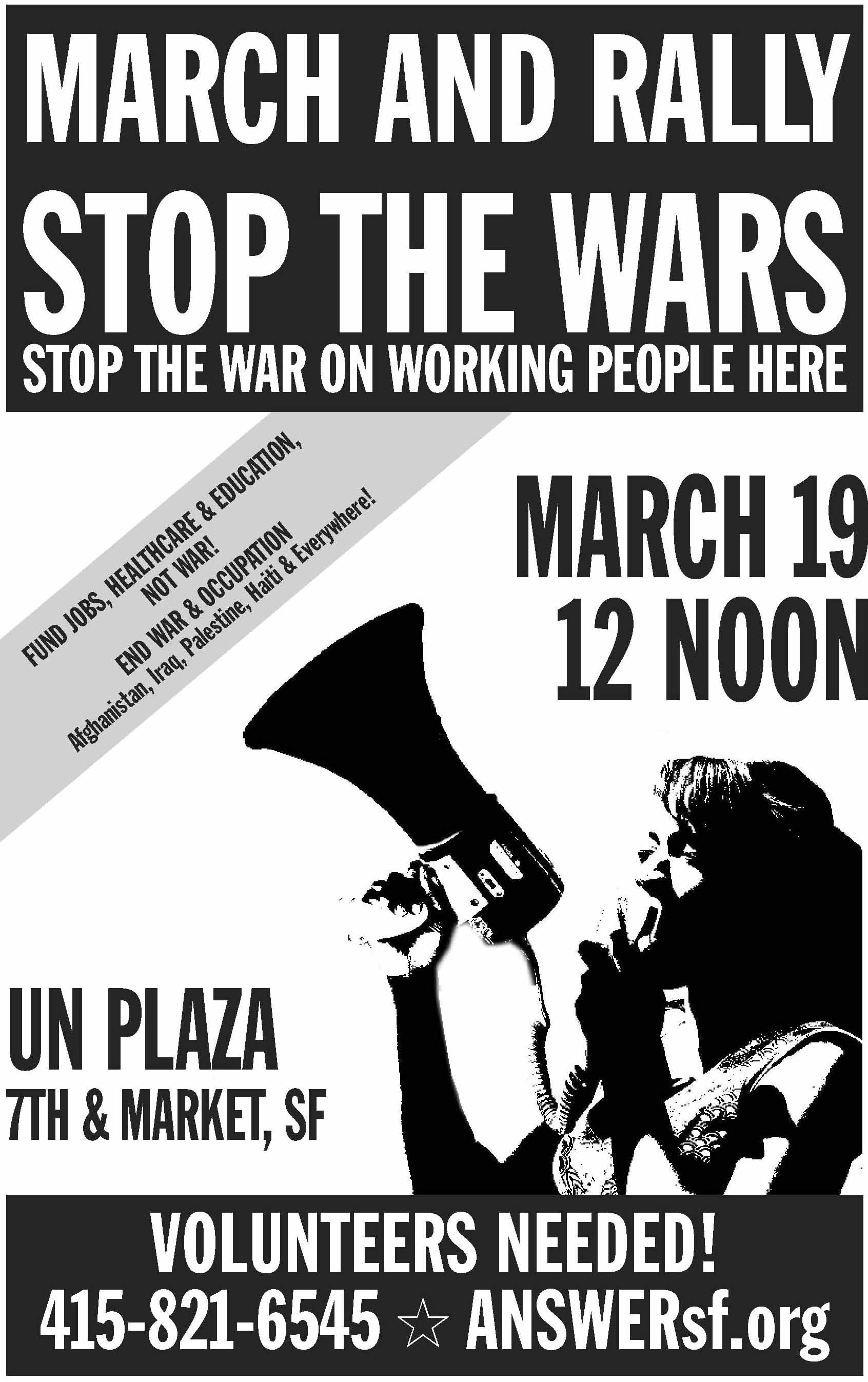 The people's uprisings in Egypt and Tunisia have affirmed once again that changing society comes through organization and mass action. The heroic struggle of Egyptian and Tunisian youth, students, workers, and poor communities have given us a shining example of that fact that we can fight back, and we can win. The people have the power.
Here in the Bay Area, unemployment and foreclosures are high, college tuition continues to soar, social services are being gutted, and more teachers are being laid-off. All the while, over $700 million a day is spent waging a war against the people of Afghanistan and Iraq—two imperialist wars that we have no reason to support.
March 19 provides the opportunity to hit the streets and demand real change right here in the United States. We are working hard to build a mass demonstration to demand money for jobs, education, health care and housing, not war and occupation—in Afghanistan, Iraq, Palestine, Haiti or anywhere. A victory in the streets doesn't happen on its own. It takes a dedicated group of organizers and volunteers to make it happen.
Click here to download bilingual flyers, English posters and Spanish posters.
Here are 6 things you can do to right now to help build March 19. Get involved in the struggle today:
(1) Become an organizer in your school, community, organization or workplace. We can send you flyers, posters and stickers to pass out. To request materials, call us at 415-821-6545 or reply to this email. You can also pick-up outreach materials in San Francisco at the ANSWER Coalition office, 2969 Mission St. btwn 25th and 26th Sts. (Office hours: Mon.-Fri. 9-8pm; Sat.-Sun. 10-5pm); or in the East Bay at Inkworks Press, 2827 Seventh St. at Heinz Ave. (near Ashby Ave.), Berkeley. (visit www.inkworkspress.org for hours)
(2) Add the name of your organization to the rapidly growing endorsers list. To see a current endorsers list, click here. To add your name or organization, email [email protected].
(3) Spread the word on social networking sites by sharing the information on the Mar. 19 action. Click here to join and share the Facebook event page.
(4) Volunteer to build March 19. Join us every week for the scheduled volunteer sessions or at anytime that is convenient for you. Attend one of the sessions below or let us know when you can help, call 415-821-6545 or reply to this email.
Weekly Volunteer Sessions:
• Mondays - meet at 4:30pm at ANSWER Office or meet at 5pm, Geneva and Mission Sts. (near Balboa BART station)
• Tuesdays and Thursdays - meet at 6pm at the ANSWER Office
• Saturdays - meet at 3pm at the SF ANSWER Office; or at 3pm in Oakland at MacArthur BART
(5) Help make alerts phone calls to our activist list. A script will be provided. Call in advance and let us know when you can help.
(6) Make an urgently needed donation to help with the many expenses that ANSWER is incurring in the mobilization. Click here to make a donation.
For more info call 415-821-6545 or email [email protected].
Do you like this post?