The ANSWER Coalition is actively supporting the March 8-9 International Women's Day demonstrations called by Women Organized to Resist and Defend (WORD). We encourage all of our members and supporters to participate.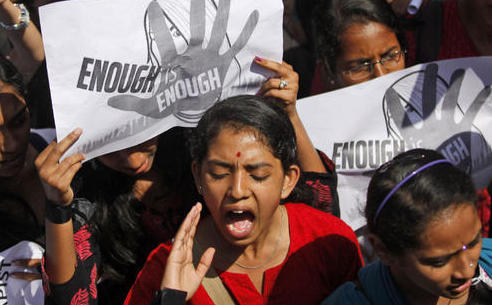 Women protest in Bangalore on Jan. 4, 2013.
Aijaz Rahi/AP
Rise up! We hold the power to bring an end to sexual violence. Every single gain, every single right we as women have today is the result of struggle. We have to fight back. The status quo must go!
In the United States, 1.3 million women are raped every year. One in every four women experience severe violence at the hands of a current or former partner. Thirty-seven percent of reported rape cases are prosecuted and only 18 percent end in a conviction. Women face intimidation in the workplace. Women in the U.S. military face a record number of sexual assaults. Our sisters in U.S. prisons face horrendous threats and have nowhere to turn. Young women in high schools and on college campuses are regularly forced to contend with intimidation, assault and rape.
This has to end!
From the streets of India to Steubenville, Ohio, mass protests have been organized against sexual violence against women. In both cases, the horrific crimes that were then ignored or covered up have sparked an outcry, a rallying cry against a culture and a society that protects victimizers and alienates victims.
In India, these protests have galvanized a mass movement. We can do the same.
Sexual violence against women isn't "normal." It's not human nature. Oppression against women—the violence, the objectification, the impoverishment and inequality that women experience—isn't just the way it is. It is a function of patriarchy and of institutionalized sexism, of the sexual objectification of women for corporate profit and of a society that tolerates—and often condones—sexual intimidation and violence.
The time is now to rise up and stop sexual violence against women. Last year, the Occupy movements took on the 1%—the wealth owners—and defended the rights of the 99%—the wealth-makers. The year before, a series of revolutionary movements in the Arab World took on oppressive governments in Egypt and Tunisia in the Arab Spring. We need a Women's Spring all over the world. 
Friday, March 8 is International Women's Day. On that Friday and Saturday (March 9) women and their allies in the struggle against violence and for justice will take to the streets all over the world.
There will be demonstrations and protests throughout the United States on March 8th and 9th to say: Stop Violence Against Women Everywhere – The Status Quo Must Go!
Join a demonstration on March 8th and 9th where you are. If no action has been announced in your area, get together with your friends and organize one. Every one of us can take action and make a difference in building this new movement against violence and in support of women's rights.
Initial Calendar of Actions
Sacramento, CA
Friday, March 8
March & Rally to Stop Violence Against Women Everywhere!
Assemble at Southside Park (2115 6th St), 4 pm
Los Angeles, CA
Saturday, March 9
March & Rally to Stop Violence Against Women Everywhere!
Assemble at Hollywood/Vine, 1pm
San Francisco, CA
Saturday, March 9
March & Rally to Stop Violence Against Women Everywhere!
Assemble at UN Plaza, 12 noon
New York City, NY
Saturday, March 9
March & Rally to Stop Violence Against Women Everywhere!
Assemble at Washington Sq Park, 1 pm

Chicago, IL
International Women's Day Forum
Date & time TBA
Rise up! Get involved:
Do you like this post?