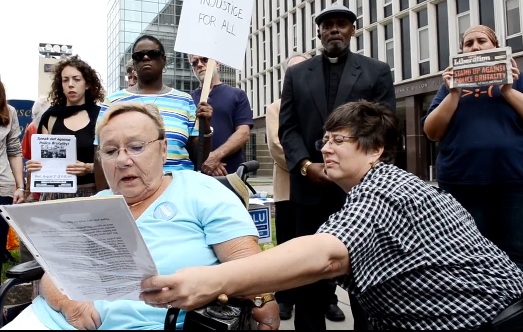 On Aug. 7, well over 50 people rallied in front of Syracuse Police Department headquarters to protest the brutal police attack on Brad Hulett, a disabled man. Hulett's crime? Riding on the bus.
On May 3, Hulett was standing up on a Centro bus. He couldn't sit because of back pain. The bus driver demanded that Hulett sit and, when Hulett politely refused, the police got involved. Two cops, Sgt. William Galvin Jr. and William Coleman started harassing Hulett. Galvin ordered Hulett to get off the bus. Having done nothing wrong, Hulett asked the cops for justification. Instead of providing a reason, Galvin tasered Hulett twice. Hulett collapsed, and the cops dragged him off of the bus and then screamed at him, "Do you want more?!"
Hulett suffered a broken hip during the attack, but instead of taking him to a hospital the cops took him to jail for "resisting arrest" and "disorderly conduct." While at the jail, Hulett was forced to try and stand up. He collapsed both times. He was left in a jail cell overnight, sitting on a broken hip. When he finally reached a hospital the next day, doctors immediately performed surgery.
A surveillance video documenting the attack became public Aug. 1. Immediately, several groups—Disabled in Action, NYCLU, and the ANSWER Coalition—began organizing.
The rally was held under the banner of the United as One Coalition, which formed to combat police brutality and law enforcement misconduct in the city of Syracuse and Onondaga County.
Speaking at the rally, ANSWER Coalition Bruce Peak said, "Brad Hulett stood his ground against discriminating, bully cops, and for that he has our unconditional solidarity. The question we need to ask is: What can be done? In order to answer that question we have to recognize that Brad's case is not an isolated incident. There is a pattern of discrimination, misconduct, and brutality in this city."
Peak called for the cops to be "severely disciplined." He also announced what people can do next: attend a speak-out against police brutality on Aug. 21 at the Southwest Community Center.
If you are interested in getting involved in the campaign to stop police brutality, contact [email protected].
Do you like this post?