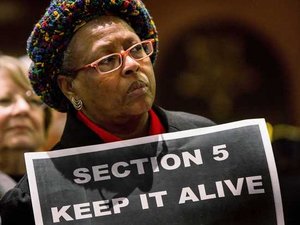 This Saturday, May 25
12:00 p.m.
U.S. Supreme Court | 1st & Maryland Ave. NE
Capitol South and Federal Center (blue/orange line)
Union Station (red line)
The ANSWER Coalition-DC is participating in a series of rolling actions taking place every weekend from May 4 to June 16 demanding that Section 5 of the Voting Rights Act be upheld. The events, initiated by Voices 4 Justice, have attracted a wide range of support from organizations and individuals such as: Delta Sigma Theta, Congresswoman Eleanor Holmes-Norton, Covenant Baptist Church, NAACP and SCLC, among others.
In February, the Supreme Court heard a case that challenged Section 5 of the Voting Rights Act, originally passed in 1965. Section 5 states that jurisdictions with significant histories of voter discrimination submit any changes to voting laws to the Justice Department for "pre-clearance."
This process is a significant boost to efforts to prevent voter disenfranchisement, a process that has become more widespread as the Republican Party has attempted to narrow the voter pool to exclude voters more likely to vote for Democrats, which is a veiled way of saying that these laws target Black voters.
While opponents of Section 5 claim that the subject jurisdictions are no longer discriminatory, the fact of the matter is that states like Florida and Alabama, subject to Section 5, are some of the leaders in voter disenfranchisement bills.
Right-wing forces want to rig the game to prevent Black Americans, oftentimes those concentrated in poor neighborhoods, from exercising their right to vote. Eliminating Section 5 will give a major boost to those who fear Black voters. Defending Section 5 is crucial to defending the gains of Black Americans against white supremacy.
Please join Voices 4 Justice, the ANSWER Coalition-DC and others on Saturday, May 25, at 12:00 p.m. in front of the Supreme Court to take part in this crucial action.
Do you like this post?