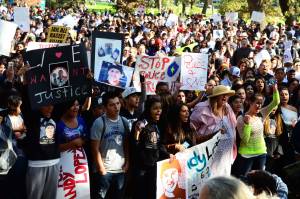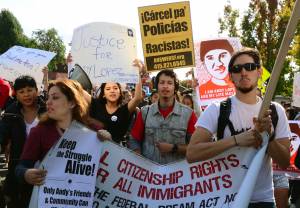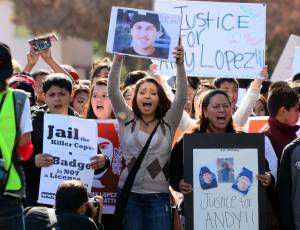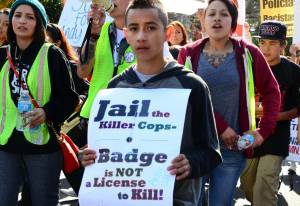 Thousands of people—the overwhelming majority of them Latino youth—took to the street of Santa Rosa, Calif., on October 29 to protest the police killing of a 13-year-old boy. It was one of the largest demonstrations in Santa Rosa's history.
On the evening of October 22, 8th grade student Andy Lopez was walking through a field in Santa Rosa to a friend's house. He was going to return his friend's plastic BB gun that he had borrowed. Two Sonoma County sheriff's deputies stopped their car and one of them screamed at Lopez to drop his gun. Lopez started to turn around to face the deputies when one of them shot him seven times, killing him. Ten seconds transpired between the moment the deputies stopped their car and the first shot that was fired at Lopez. The autopsy demonstrated that some of the bullets hit Lopez in the back, before he had fully turned around to face his killer. After the shooting, the deputies handcuffed Lopez's body and evacuated the scene for several hours. Lopez was killed on the National Day of Action Against Police Brutality.
While the Sonoma County Sheriff's Department had to acknowledge that Lopez was only carrying a toy gun, they refused to say that the deputies had behaved inappropriately. The names of the deputies were not provided to the public, who were told only that the deputies had been placed, predictably, on two weeks paid leave while an "investigation" into the shooting was being conducted.
Students walk out
Lopez was well-known and popular in his school. In the days that followed his death, a school walk-out was planned for October 25 that had the vocal support of many parents and school board member Laura Gonzalez. Despite the popular character of the walk-out plan, school administrators maintained they would not allow the students to protest the killing of their classmate. However, that didn't alter the will of the students to express their rage. Hundreds took to the streets and surrounded the Sheriff's Department station demanding justice for their friend and classmate.
In response to the strong show of unity from the youth of Santa Rosa, the SRPD named Lopez's killer. The killer is named Erick Gelhaus, a 24-year-veteran of the force, who had also been in the armed services for 10 years and had participated in the criminal occupation of Iraq. The most shocking thing about the identity of Lopez's killer is that he is an open advocate of gun rights who publishes regularly in journals such as SWAT magazine and the Firing Line Forum. Here are some excerpts from Gelhaus's teachings: "Today is the day you may need to kill someone in order to go home. If you cannot turn on the 'mean gene' for yourself, who will? If you find yourself in an ambush, in the kill zone, you need to turn on that mean gene."
Even more tellingly, Gelhaus wrote in an article titled "He's Got a Gun! ... A BB Gun ..." that if law enforcement saw someone who may or may not be holding a real gun that they should shoot first and try to convince their higher-ups that they feared for their life after the fact:  "It's going to come down to YOUR ability to articulate to law enforcement and very likely the Court that you were in fear of death or serious bodily injury. I think we keep coming back to this, articulation — your ability to explain why — will be quite significant."
On October 28, it was revealed that City Manager Kathleen Millison and City Attorney Caroline Fowler ordered the Santa Rosa City Council to not discuss Lopez's death with the community. Fowler e-mailed the members, advising them that it was "critical that you not comment on the sheriff incident that is being investigated by the SRPD."
October 29 protest
These revelations further angered the community and brought Santa Rosa to national attention.  Another school walk-out was planned for October 29,  inspired by a Facebook page called "March for Andy Lopez" designed by Donald Williams, co-president of the Second Chance Club, which advocates for former prisoners attending Santa Rosa Junior College. Socially conscious people from across California planned to join the youth of Sonoma County that day.
By 11 a.m., there were already several hundred youth packing Santa Rosa's Old Courthouse Square. Young people who had known Lopez were invited up to talk about how he had affected their lives and about their own experiences with Sonoma County law enforcement. They noted that 50 people had been killed by law enforcement or prison officials in the county since 2000. Several young men of color described being menacingly followed by SRPD and Sonoma county deputies. Chants of "Andy Lopez did not have to die" echoed throughout downtown Santa Rosa.
The march, attended by members of both the San Francisco and Sacramento chapters of the ANSWER Coalition, took over Mendocino Avenue. Everywhere, cars honked in support. Several vehicles sported signs reading "Justice for Andy Lopez!" By the time the marchers paused at Santa Rosa Junior College, the crowd had swelled to 3,000. Organizers asked the multinational crowd how many of them were under 16 years of age and a majority raised their hands.
Next, the crowd moved in on the Office of the Sonoma County Sheriff's Department. The building was walled off with five well-armed deputies in riot gear guarding the entrance. Several other deputies menaced the crowd from the ceiling with automatic rifles and a grenade launcher. Two of the deputies on the ceiling were seen pointing at individual protesters and laughing derisively. Several helicopters encircled the protesters. None of this intimidated the youth from having a long and lively speak-out. The crowd announced that after the speak-out in front of the Sheriff's Department that they would march to the City Council meeting to demand a discussion of Lopez's killing and that the Council act to hold Gelhaus responsible. It was later announced that the Santa Rosa City Counsel had canceled their scheduled meeting in order to shut out the voices of the people.
Families of victims of police brutality speak out
Families of victims of police brutality came from all over California to demand justice for Lopez. Christina Arechiga, whose cousin Ernest Duenez, Jr. was murdered in his own yard in Manteca, Calif., on June 8, 2011, by police officer John Moody, told the crowd: "The police officers [who killed Duenez] were ruled justified. And we want to make sure that that does not happen in Santa Rosa! We want Gelhaus! We want prosecution for this officer who took Andy's life, who is sitting here, lying to us, telling that he feared for his life. But yet, we can see on the internet, and all the things that he posts and all the things he's written in magazines that he thinks he is invincible! That he likes to kill beings! And he likes to play with guns. There is no way that that man feared for his life whatsoever! And we don't buy that!"
Indeed, many speakers noted how Gelhaus, a supposed weapons expert who had trained other officers as a marksman for years, was claiming that he could not distinguish a toy gun from a real one, and that as a sharp-shooter, he had felt it was "necessary" to fire nine shots at Lopez, seven of which hit him.
Cindy Mitchell, the sister of Mario Romero, another unarmed man shot down in front of his home by a cop in Vallejo, Calif., on September 2, 2012, also addressed the crowd: "You need to know that these police are murdering us. My brother was unarmed and he was murdered by the Vallejo Police Department. He was shot over 30 times. He was shot through the center of his hands, through his mouth, through his chest. He was unarmed and all [the cops] had to do was say they feared for their lives. You have to understand that after my brother was dead they zipped up his hands. How do you handcuff a person whose dead? That's how they did Andy!"        
Forrest Schmidt of the Justice 4 Alan Blueford Coalition and the ANSWER Coalition said: "Everyday the cops are killing people! Every time they say the person had a weapon. In Oakland, when Alan Blueford was murdered by the police, they said he had a gun. The gun was registered to a cop. The cop said, 'Oh, it must have been stolen and I forgot to report it stolen!' ... A toy is legal, a gun is legal. This cop wrote articles, he's a right-wing conservative, saying we all have a Second Amendment right to have guns. He's for all of us having AK-47s. AK-47s are legal in California until you're Brown. It's racism!"
Richard Becker of the ANSWER Coalition said: "'Let them hate, as long as they fear' was the slogan  of the Roman Empire 2,000 years ago, and that seems to be the real slogan of the Sonoma County Sheriff's Department today. But when the people no longer agree to fear, then the end of that system is near. And the people, all of you who came out today, show that you have no fear."
The struggle for justice for Andy Lopez will continue, with more actions planned for the coming days. Justice for all victims of police brutality!  Jail killer cops now!
Do you like this post?