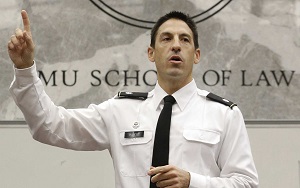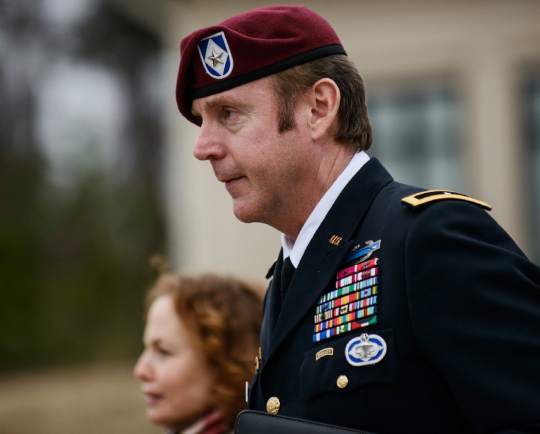 From the website of March Forward!
By Ryan Endicott
The author is a U.S. Marine Corps and Iraq war veteran. 
Just days after a Military Sexual Assault bill that would take prosecution powers away from top officers was shut down in the Senate by a 55 to 45 vote, the Army's top sexual assault prosecutor, Lt. Col. Joseph Morse, was accused of sexually assaulting a soldier under his command. 
Just days after that, Army Brig. General Jeffrey Sinclair, one of the top commanders in Afghanistan, pled guilty to "forced sodomy" in a court martial.
As more female veterans raise their voices about the realities of sexism and rape culture in the military, it has become clear that the command structure, from the military to the U.S. government, is incapable and unwilling when it comes to protecting women soldiers from sexual violence and responding when they demand justice after being raped, let alone creating an environment of equality within the military. 
The bill would have completely transformed the Uniform Code of Military Justice relating to sexual assault, taking away the power of officers and high-ranking command to decide which cases of sexual assault reported within their command would be prosecuted and which would be ignored. 
If women in uniform are reporting en masse that a top barrier to sexual assaults being reported, investigated and prosecuted is that it is the sole decision of a commanding officer—and acknowledging that many times the commanding officer is the attacker—then upholding that barrier only sends a message of support to the officers standing in the way.
Things must change
The entire process would have been outsourced to a separate chain of command. This is an absolutely vital step towards taking power out of the hands of local commanders who many times are the perpetrators themselves, as with the example of Lt. Col. Joseph "Jay" Morse. 
Morse was the supervisor of almost two dozen special victim prosecutors who handled charges of sexual assault, domestic abuse and child abuse. Yet it was recently reported that Morse sexually assaulted a lawyer in his command at a hotel room while attending a sexual assault legal conference in 2011. This scandal came in the wake of a recent Army statement made in late February that the Army had "suspended 588 troops and employees in 'positions of trust.'"
Click here to read '10 Quick Facts' about Military Sexual Trauma
According to a 2012 study by the California Research Bureau, nearly two-thirds of female Global War on Terror veterans have reported being sexually harassed, and over one-third reported experiencing sexual assault. In addition, in 2012 as many as 22,000 cases of sexual assault went unreported.  Furthermore, 2012 represented a 6 percent increase in reported cases of sexual assault. However, including the unreported cases, the overall increase in sexual assault against women was nearly 35 percent. The Navy alone reported a 32 percent increase in reported cases from 2011-2012. 
Additionally, according to a 2012 report published by the Department of Defense Sexual Assault Prevention and Response Office, 47 percent of unreported cases of sexual assault went unreported due to "fear of retaliation or reprisal." This makes sense, given that, "62 percent of victims who reported a sexual assault indicated they experienced professional, social, or administrative retaliation," and 43 percent had heard about the negative experiences of other victims.
However, this is only half of the systemic rape culture of the U.S. military. Not only do vast numbers of women experience sexual assault, not only are they systematically stopped from having a safe and effective channel to report abuse, but, even when they do report abuse, almost none of them see justice with a conviction against their abuser. In fact, 74 percent of women who brought their abuse to trial reported at least one barrier to the process of reporting their abuse. Further, even after these barriers have been jumped by victims of sexual assault, the conviction rate in sexual assault cases dropped from 2011-2012 from 1 percent to 0.9 percent. 
Given these grim and horrendous facts, it is clear that Military Sexual Trauma is an epidemic that is spreading and attacking our sisters in the military in a systemic way.
When asked why the Military Sexual Assault Bill failed to pass the Senate, Sen. Carl Levin (D-Michigan) responded, "The evidence shows that removing this authority from our commanders would weaken not strengthen our response to this urgent problem." 
This begs the question: if tens of thousands of soldiers are being raped and intimidated into not reporting their assaults, if women who do report assaults see fewer than 1 percent of their abusers convicted while 99 percent of abusers continue to maintain command over them, exactly what "critical principal of command authority" is he referring to?

The critical principal of command authority referred to by the Democrat from Michigan is the principal of imperialism: complete control over enlisted soldiers, who have no power or say in what happened to their lives, and their subsequent use as cannon fodder in wars that only benefit Wall Street. 
While the officer corps and Pentagon brass come from the richer and more privileged sectors of U.S. society, the enlisted women and men come from working-class communities and are sent around the world to fight and die. While the unelected officers and Pentagon brass build their careers on our backs and take huge kickbacks from weapons contractors, oil tycoons and Wall St. bankers, they don't want sexual assault cases of enlisted soldiers in their units getting in the way of their promotions.
The epidemic of Military Sexual Trauma is not a problem resulting from putting male and female soldiers together; it is the result of a command structure that undemocratically puts the rich and privileged in unquestionable authority over the enlisted, a system that would give perpetrators of sexual violence against women the full authority to prosecute themselves. 
It is our duty as active duty service members and veterans to be the loudest voices for justice for our sisters in uniform and to organize against the rotten officer corps.   
Click here to read '10 Quick Facts' about Military Sexual Trauma
Do you like this post?