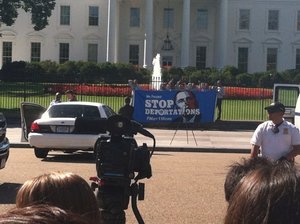 In a courageous act of protest seven undocumented activists chained themselves to the White House fence Sept. 18 to demand "Not one more deportation!" Organized by the National Day Laborer Organizing Network and supported by a wide range of immigrants' rights groups, the civil disobedience action is part of a growing campaign to demand that President Obama use his executive authority to end his administration's brutal policies that tear apart immigrant families and communities.
The Democratic Party and President Obama himself have repeatedly promised to enact what they call "comprehensive immigration reform" in an attempt to shore up support from Latino voters during election years. The Democrat-controlled Senate has passed a bill that has major problems but still represents a step forward, but the House of Representatives refuses to vote on it.
The administration and its Congressional allies have begun to move on to other issues, arguing that there is simply nothing they can do to break the deadlock. At the same time, ICE – which as a part of the Department of Homeland Security operates under the authority of the president – continues to terrorize immigrant communities with deportation raids that rip away approximately 1,200 people from their families and communities every day.
Deportations have been carried out at a higher rate under the Obama administration than any other president. When asked by Telemundo journalist José Diaz-Balart in an interview Sept. 17 if he would consider expanding a deferred action program to reduce the number of deportations, Obama replied: "that's not an option."
The undocumented activists arrested in front of the White House, using similar tactics as undocumented youth who recently won major gains for those who came to the United States as minors, challenged this hypocrisy. Protester Maria Cruz Ramirez, a mother of three, explained her motivations before the action: "I have to fight for the future of my children, and for my future. I know that whenever I am working to support them, I am risking being detained and placed in deportation." Another one of the seven, Rodrigo Guzman, said: "The President has the ability to stop deportations, to make this stop, and to get us one step closer to immigration reform. There is no room for excuses."
The ANSWER Coalition stands in full solidarity with the courageous actions of the anti-deportations protesters and the broader movement they are helping to lead. We demand full rights and legalization now, end deportations!
Do you like this post?