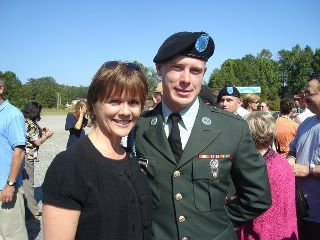 The White House
Tuesday, June 10 (TODAY)
4:00 p.m.
The chest thumping, right-wing, mega-millionaires in Congress have spent the past days beating up on and creating hatred against Sgt. Bowe Bergdahl, the only American Prisoner of War (POW) in the Afghanistan War.
After five years in captivity, Bergdahl was finally set free last week in an exchange between the U.S. government and the Taliban. He was exchanged for five officials of the Afghan government that was toppled when the U.S. invaded in 2001. Like most other inmates in Guantanamo, these men had been held for a decade without ever having had charges placed against them.
Why has Bergdahl been subjected to so much hatred? One would think that an American POW's release would be a cause of celebration and relief. Why, at the moment of his release, was he instantaneously subjected to a nationwide campaign to brand him a "traitor" and caricature him with unsubstantiated allegations by these right-wing demagogues whose usual pose is to wrap themselves in the flag while expressing their undying love for "our troops?"
The right-wing's disgusting campaign was motivated by two factors:
Sgt. Bergdahl seems to have written letters home before his capture that expressed a growing disenchantment with the U.S. war effort and with the brutality and racism he saw perpetuated against people in Afghanistan.
It was President Obama that secured the release of Bergdahl following a long and protracted negotiation with Taliban officials. In the months before he was released, Sen. John "I never met a war I didn't like" McCain demanded that Obama win Bergdahl's release. The moment Bergdahl was freed McCain and the rest of the wolf pack hit the talk shows to further their right-wing agenda by denouncing the treachery of "negotiating" with the "terrorists."
Join us on Tuesday, June 10 at 4:00 p.m. in front of the White House (1600 Pennsylvania Ave. NW) and let your voice be heard. The right-wing militarists and war mongers have been dominating the media. It is time for the people to be heard. Instead of demonizing Sgt. Bowe Bergdahl we will say welcome home!
It is the war in Afghanistan that is a criminal enterprise. The politicians are sending young people in the U.S. armed forces to kill and be killed in a war that they have known cannot be won because the Afghan people will never live under foreign occupation.
The Obama administration has not kept its promise to close the Guantanamo torture facility, which he said he would do when he took office in 2009. Instead of using his executive authority to close a facility that the United Nations has declared a torture center, he has sought to appease his right-wing critics at home. He will never appease them!
The time to act is now. We need to end the occupation of Afghanistan!
Sponsors: ANSWER Coalition, Veterans for Peace, March Forward!, CODEPINK, Imam Mahdi Bray, Col. Ann Wright and others

On the same day (Tuesday, June 10), a demonstration will be held in downtown Los Angeles against the war and the right wing's attacks on Bowe Bergdahl at 4:00 p.m. at the Federal Building (255 East Temple Street). 

Do you like this post?