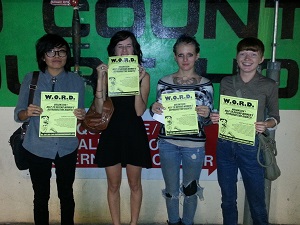 The ANSWER Coalition actively supports the work of Women Organized to Resist and Defend (WORD)

Women and allies flooded Albuquerque City Council to speak out in support of a resolution to protect women's reproductive rights and declare Albuquerque a pro-choice city on September 16.
The Albuquerque chapter of WORD (Women Organized to Resist and Defend) made the Call to Action in order to intervene on a proposal to allow an anti-abortion bill onto a special election ballot. That bill would ban abortions after 20 weeks.
The action was joined by several other women's groups and supporters, including NOW (National Organization for Women), Respect ABQ Women, NM Religious Coalition for Reproductive Choice, Young Women United and Personhood for Women.
Dozens of women from the community signed up for public comment, dwarfing the barely visible anti-choice extremists. Supporters of women's rights cheered and applauded each speaker, ignoring the calls of City Councilors to remain silent.
Sydney Hodge, a member of WORD, spoke to the City Council: "Not only is this bill unnecessary and a waste of tax payers' money, it is a flat out threat to women's reproductive rights and women's equality in general."
Hodge went on to denounce the group of extremists responsible for the proposal: "Attempts such as these made by Operation Rescue are made out of bigotry and hate, and I personally would not feel proud to say that I am from a city that would succumb to such lowly attempts."
Operation Rescue is an extremist anti-abortion group based out of Kansas that has used the threat of violence to intimidate both women seeking abortions and physicians who perform abortions.
In fact, Operation rescue is a dangerous group that has carried out terrorist attacks on providers of women's healthcare. On May 31, 2009, George Tiller, a physician from Kansas known for being one of the few doctors to perform late-term abortions, was killed by Operation Rescue member and supporter Scott Roeder.
WORD and the women of Albuquerque will not stand by while terrorist groups like Operation Rescue attempt to attack women's reproductive rights. WORD will fight back against any groups that intend to push women back. In the coming weeks and months, WORD volunteers will be active throughout the Albuquerque community to oppose any ballot measure that denies women their basic reproductive rights.
Do you like this post?